What's Terroir?: Vineyard Walking Tour & Tasting IV
| | |
| --- | --- |
| Date: | Tue, Aug 13, 2019 |
| Time | 2:30 PM to 5:30 PM |
| Venue: | Johnson Estate Vineyards & Winery 8149 W. Rt 20, Westfield, NY |
| Contact: | Chautauqua Institution - Special Studies |
| Phone: | 716-357-6250 (Chautauqua Inst.) |
| Email: | fsj2@msn.com |
What's Terroir?:
Vineyard Walking Tour & Tasting IV
August 13, 2019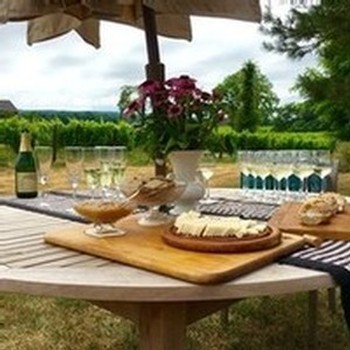 Photo Credit - Chad Hermann, July 2016
The wines made near Lake Erie are influenced by a unique combination of geography, soils, slope, and weather which define our terroir. Fred and Jennifer Johnson, owners, and Winemaker Jeff Murphy will lead you through the vineyards, visiting three deluxe tasting stations for Estate wines paired with delicious local and complementary foods. The tour includes samples of seven wines. See, touch and taste the ripening grapes and enjoy an afternoon in the vineyards.
Students should be able to walk about one mile.
Round-trip bus from Turner (Chautauqua Institute) included.

Register online at www.ciweb.org, Class # .
Fee of $75/person includes bus from Turner and all food and wines
(no additional materials fees).
Reserve class through Chautauqua Institute here.