ABOUT US WINES ALL ABOUT ICE WINE
---
Dear Pennsylvania Customers,

We're looking forward to seeing you again at our winery when Mother Nature permits - as it is snowing now! In the meantime, we'd like to introduce you to a great new wine at your local wine shop.

As you know, PLCB stores have been selling our wines for many years. Johnson Estate now produces over forty wines, both dry and sweet, and these stores currently feature eight of our sweet wines including Concord, Niagara, Catawba, and House Red (in 1.5L bottles) as well as Ives, Liebestropfchen, Passionate Peach, and Sweet Riesling (in 750mL bottles).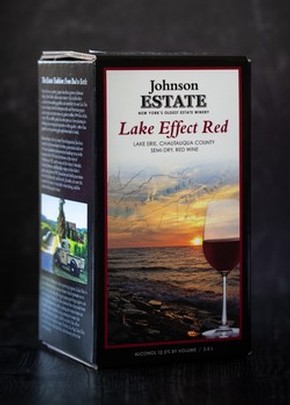 We are pleased to announce that Johnson Estate's new Lake Effect Red is now on the shelves in the PLCB stores! This is a new dry/semi-dry red wine made from a blend of estate red grapes grown in our vineyards overlooking Lake Erie sunsets. Sold only in 3L boxes (not available for online shipment from the winery), the Lake Effect Red, is our latest rendition of a rich and lightly-oaked red wine:

"Ripe aromas of plum, blackberry and vanilla lead to a full palate of blueberry jam, vaniila spice, and mocha. Finishes soft, yet fresh. An ideal pairing for pizza, roast beef, and most pasta dishes."

We hope that you are able to try it soon! It's a delicious wine and a great value that will complement your great, at-home meals. The bag-in-box package keeps the equivalent of 4 regular bottles of wine fresh for up to a month by excluding light and air. It's usually shelved in the box section, but ask for it on your next visit to your favorite PA store. Just $18.99/3L box at most PLCB stores - and now comes with a $2 rebate coupon!

Happy 2022!
Jennifer & Fred Johnson
---
WINTER - WINERY HOURS -
Sunday-Thursday 10AM - 5PM
Friday & Saturdays 10AM -6PM
Open for tastings and purchases. We are happy to take orders by phone.
Curbside delivery is always available, even in the middle of a snowstorm!
---



Forward this email to a friend
and invite them to sign up for our newsletter!