A "red"heart" made of our Johnson Estate Cherry Liqueur - in the Tasting Room.
---
WINE GIFT BOXES FOOD & CHOCOLATE
---
Valentine's Day and chocolate seem to be synonomous - and so we've stocked up on wine and chocolate pairings to give you plenty of choices! This winter we have chocolate bars from Anette's Chocolates as well as four different flavors of Estate "logo bars" made by Le Rouge Chocolates by Aarti (included in the World Directory of Chocolates). We hope that you will be tempted to share some of these with YOUR Valentine!
Sweet regards,
Jennifer & Fred Johnson
---
WE'RE READY FOR VALENTINE'S DAY
CHOCOLATE GIFT BOXES!
Chocolate and wine pairings - for your someone special!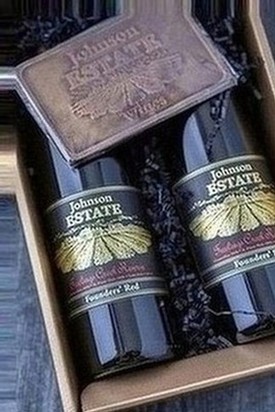 Here's our "Dark at Heart" Gift Box with two bottles of wine and a chocolate bar. And we've prepared three other gift boxes, each with a special logo chocolate bar - see all four boxes here. The titles are "one-clicks" - which put the gift box straight into your cart! The logo bars, made by Le Rouge Chocolates by Aarti, are finished with a gold dust. They come in four flavors included here:
One-Click Berries & Cherries:
Blueberry & Cherry Liqueur + Milk Chocolate Logo Bar
One-Click Rosé & Rubies:
Dry Rosé of Pinot Noir, Dry Ruby Rosé, & Ruby Chocolate Logo Bar
One-Click Dark at Heart:
Two bottles of Founders' Red + Dark Chocolate Logo Bar
One-Click Love & Passion:
Passionate Peach, Liebestropfchen + White Chocolate Logo Bar

See all of our Gift Ideas Here
---
CHOCOLATE'S BEST FRIENDS
Many of Johnson Estate's wines are suited to be chocolate's best friends
(this photo is from a shop in Germany!). Here are some favorite pairings: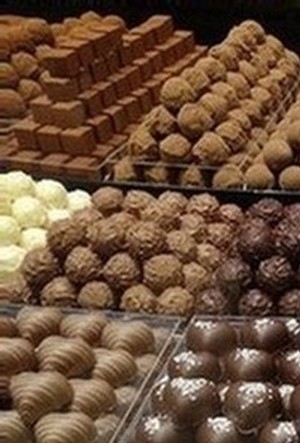 DARK CHOCOLATE:
Ruby Port, Founders' Red, Chambourcin, Maréchal Foch
PEANUT BUTTER CHOCOLATE:
Ives, Concord
MILK CHOCOLATE:
Cream Sherry, Cherry Liqueur, Blueberry Liqueur
WHITE CHOCOLATE:
Sparkling Rosé Ice Wine

Let your Valentine's palate be your guide!
Or call us for suggestions: 716-326-2191 (10am-5pm)
---
FREE & DISCOUNTED SHIPPING PROGRAMS
We hope that you know all about our Good Neighbor Programs!
If not, learn more here.
---
WINERY HOURS
Sunday-Thursday 10AM - 5PM
Friday & Saturdays 10AM -6PM
Open for tastings and purchases. We are happy to take orders by phone.
Curbside delivery is always available.