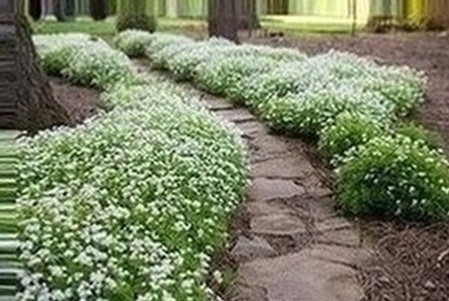 ---
WINE AWARDS WINE CLUB GOURMET GIFT IDEA
---
THIS EMAIL IS for MAY 13, 2021 - April 29 got erased...

Here's that sweet woodruff path near the winery - it is in its glory right now with the soft spring sunshine. And, as many of you know, it is the secret ingredient in our popular limited spring vintage May Wine. Here's a celebration of both the season and this wine!
Spring Sunday Brunch, June 6th, 2021, 11:30am.
Chef Karl Johnston, Executive Chef at the Twentieth Century Club in Buffalo, will be preparing a seasonal buffet which we will enjoy outside - or if the weather doesn't cooperate - in a tent! We've provided the menu below and hope you can join us. Fred and I learned while living in Australia that a glass of sparkling wine is the perfect "welcome-to-the-party" beverage - and so, yes, it has to be May Wine!
Happy Spring.
Jennifer & Fred Johnson
---
SPRING SUNDAY BRUNCH
June 6th, 2021, 11:30am



. $50/person - $40 for Wine Club Members with Promotion Code - SPRINGSB
Reservation link here.
---
COMING EVENTS
Finally. We're starting to load our Event Calendar with 2021 summer's upcoming events. We've added a series of Sunday Morning Vineyard Walks, which begin Memorial Day weekend, right when the purple iris are traditionally in full bloom and when we host French Picnics in the Garden. We'll have baguettes, cheese, and charcuterie available for sale in the winery - so that you may enjoy a picnic in the farmhouse gardens.
---
AT THE WINERY
Open Daily 10AM - 6PM
Open for tastings and purchases. We are happy to take orders by phone. Tastings in the gardens available on the weekends, weather permitting.
Curbside delivery is always available.
---
FREE AND DISCOUNTED SHIPPING
Visit this page for details & promotion codes.
---