Dear //FirstName//,
We would be remiss not to remind you that Johnson Estate's Freelings Creek Sweet Riesling is available in over 300 PLCB stores and is a good answer to the question: "What to do for Valentine's Day?". Find our Sweet Riesling at a PLCB store near you.


The climate and "terroir" of Lake Erie's southern shores, similar to that found in Germany, are perfect for production of high-quality Riesling grapes and wines. Our Riesling vineyards were first planted in 2009 (photo here from 2014) and the resulting wines continue to earn accolades and our latest vintage of Sweet Riesling was awarded 90 points by Tastings.com in January of 2017. Johnson Estate's portfolio of Riesling now includes four different award-winning vintages of Riesling from very dry to sweet.
1. Black Loc
ust Dry Riesling
2. Dry Riesling
3. Semi-Dry Riesling
4. Sweet Riesling
---
Join us for our Valentine's Challenge on Facebook! We hope to reach 5,000 friends by Valentine's Day. Please do share our Facebook page with your friends - we plan to celebrate achieving this goal with FREE wine tastings for our Facebook friends.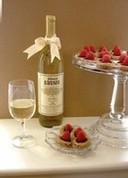 ---
This year, Lake Erie Wine Country's annual Wine & Chocolate Weekend will be February 16-18. Tickets are available online - you choose your own "ticket pick-up" winery location. The weekend commences at noon on Friday, February 16th. Johnson Estate will be featuring its popular Founders' Red paired with Double Chocolate Cherry Biscotti. Yum.

We wish you a pleasant Valentine's Day with family and friends.
Jennifer & Fred Johnson