Dear //FirstName//,
We are happy to be sending you this information about a new series of dinners at Johnson Estate to feature locally-grown produce and the talents of local chefs. We begin this series with a German-inspired menu - created by Guest Chef Edward Work -
for our upcoming May Wine Dinner on April 13th.

You may have heard us say before that our "Germanic" micro-climate permits us to excell at growing Germanic grapes, such as Riesling. Germany's spring "white-wine-punch" traditions inspired Johnson Estate's Winemaker, Jeff Murphy, to create our sparkling May Wine, flavored with the woodland herb, sweet woodruff ("Waldmeister" or "master of the wood"). And we continue to strive to educate ourselves about Germany's wine traditions - the photo below was taken on our visit to the Black Forest near the Moselle River in 2014.
We are working on the dinner's wine pairings now - to include the new release of our May Wine as well as other special vintages.
We hope that you can join us!
Please make your reservations online by April 10th.
$65/person includes all wines and gratuities.
---
Welcome Spring, A Taste of Germany, May Wine Estate Dinner
Featuring Guest Chef Edward Work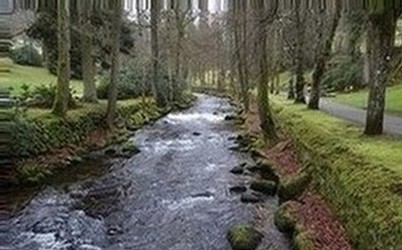 The evening starts with appetizers in the Tasting Room followed by wines paired with a multi-course dinner prepared by Executive Chef, Edward Work of the Heirloom Restaurant
(Athenaeum Hotel at Chautauqua Institution).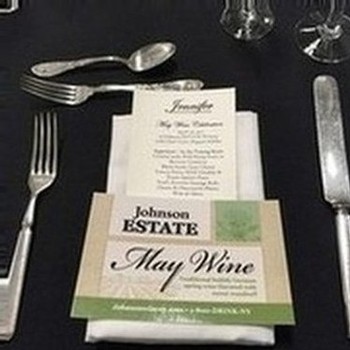 Appetizers – In the Tasting Room
Chicken Liver Mousse with Pickled Red Onions & Spicy Greens on Toasted Brioche
Gorgers (Rolls) Stuffed with Sliced Bratwurst, Wild Ramp Tops & Sweet Mustard Glaze
Cheese and Charcuterie Board with House-Made Crackers and Pickles
Prosciutto and Quark-Wrapped Asparagus

First Course
Baby Mix Green Salad with Snap Peas, Asparagus, Hard Boiled Eggs, Crispy Prosciutto, and
Toasted Hazelnuts with White Wine Vinaigrette

Second Course
Smoked Lake Erie White Fish Cake with Arugula and Sweet Apple Mustard Vinaigrette

Main Course
Crispy Braised Pork Belly Served with House Made Spaetzle (German Noodles),
Sweet Pickled Pearl Onions, Braising Liquid, and Crispy Pork Rinds

Dessert
Schaum Torte (Meringue) Filled with Bavarian Crème Served with Macerated Berries
---
Maple Weekends at Johnson Estate, March 23-24 and 30-31, 1-4pm
Celebrate NYS's local maple season with Johnson Estate's unique, award-winning Maple Liqueur
and freshly-made French crêpes.
No reservations necessary
(except for groups greater than 8).
$3/person for samples of liqueur and crêpes.