Dear //FirstName//,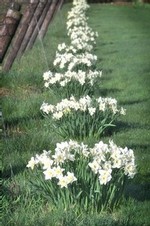 Good morning. And Happy Easter.
We sincerely hope that you and your families are well and that you have enjoyed this unusual Easter weekend more than expected. Yesterday, here, it was a gorgeous spring day. As you can see, the daffodils at the end of the vineyard rows are celebrating.

We appreciate, with gratitude, all of the interest and support we are receiving from our customers. Thank you for serving our wines at your tables.

Going forward, we plan to send to you periodic updates of activities on the farm (pruning is finished and trellis repairs have begun) and in the winery (secondary in-bottle fermentation has been started for the Sparkling Traminette and our new estate-grown Chardonnay-Pinot Noir Cuveé!) - for neither the vines nor the wines in the tanks understand that there is a pandemic. We are confident that by the time these sparkling wines are ready to be released that we will free to enjoy them together.

Please know that our FREE Shipping Programs continue for all of our customers - details here.
Warm Spring Regards,
Jennifer & Fred Johnson
Johnson ESTATE Winery
---
---
To continue to receive our emails to your inbox, please add
this email address to your contact list - admin@johnsonwinery.com -
as some email providers will divert our emails into your spam folder.
---
---
Retail Room Open 10am-6pm
Daily & Curbside Delivery (We have a plexiglass shield at the bar)