Shipping Notice: We ship our wine to the 34 GOLD states in the map below.
FREE Holiday Shipping: From November 1st thru December 31st, Johnson Estate Winery offers free shipping on purchases of twelve like-sized bottles of any of our wines (thus, twelve 750ml bottles or twelve 1500ml bottles). Please note that any 375ml will count as one 750ml for this FREE SHIPPING program.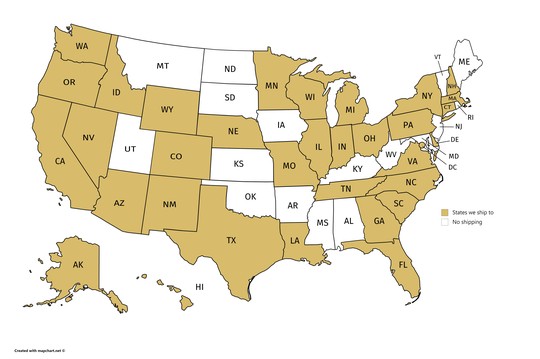 We ship wine to 34 states: Alaska, Arizona, California, Colorado, Connecticut, Delaware, Washington, DC, Florida, Georgia, Hawaii, Idaho, Illinois, Indiana, Louisiana, Massachusetts, Michigan, Minnesota, Missouri, Nebraska, Nevada, New Hampshire, New Mexico, New York, North Carolina, Ohio, Oregon, Pennsylvania, South Carolina, Tennessee, Texas, Virginia, Washington, Wisconsin, and Wyoming

.