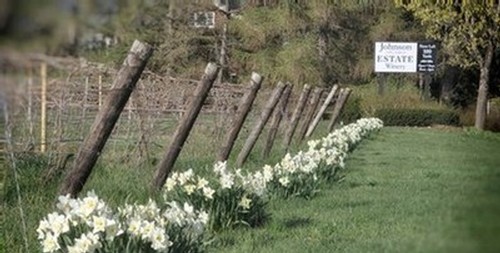 Dear //FirstName//,
Thank you for your interest and we hope that this email this finds you hale and hearty. We want to share with you what Johnson Estate is doing to keep our guests, our co-workers, and our communities safe and healthy in the current situation. And we all should, of course, be paying attention to the advice from our doctors, local health authorities, and the CDC. Please know that:
We intend to remain open unless health authorities recommend otherwise.

We have redoubled our day-to-day sterilization disciplines in the Tasting Room and in our offices.

Any employee who has any sign of sniffles is asked to stay home. Paid sick days have been increased for our employees to help cushion the stricter stay-at-home requirements.

Full refunds are available for any cancellation on our ticketed events.

We are working on various options and discounts for remote/online shopping, from free shipping offers for our more distant customers to pre-order and pick-up alternatives at the winery for those who would like to stay in their cars.
Background:
We are, by profession, in the microbiological extermination business every day. We often say to tour groups, that in terms of workload, wine-making is 10% science, 10% art, and 80% sterile plumbing. We spend 80% of our time in the wine cellar cleaning and sterilizing, because if we don't, bad things happen promptly and clearly. Bacteria, like acetobacter, makes vinegar and stray yeast cells can spoil the taste or turn a bottle of semi-dry wine into a tabletop Vesuvius. Every day we sterilize with 90% alcohol any new thing which the wine might touch that day.
This discipline always informs our tasting room hygiene and is now being deployed full bore. Hand sanitizer bottles (equivalent alcohol plus aloe) are on each tasting bar, and countertops are sprayed down and wiped with the industrial strength alcohol at least hourly. As usual, tasting glasses are high- temperature washed and sanitized after every use and disposable plastic glasses are available if customers prefer.
We will update this information from time-to-time as we learn more. In a meantime, may you stay healthy and happy. We look forward to sharing wine with you in the future.

Best Regards,
Frederick and Jennifer Johnson
Buy Wines Online at Johnson Estate