ON THE ESTATE
Mother Nature is going to be generous this weekend - providing us with a rare Indian summer weekend - with temperatures in the 60-70's. We'll be setting up the tasting tent outdoors to provide outdoor tastings for just one more weekend!

We've also just added some self-guided Fall Walks to our website so that if you feel like a stroll at your own pace, you may enjoy the farm during Mother Nature's Indian Summer! Here's a photo of the path through the woods to the pond. Now imagine the leaves rustling as you walk (or your grandson kicking them as he goes) and the sunlight on the dappled yellow leaves....we look forward to seeing you.
Warm Regards from Jennifer & Fred Johnson
---
IN THE TASTING ROOM
FREE TASTINGS FOR ACTIVE & RETIRED MILITARY
NOVEMBER 1 - 30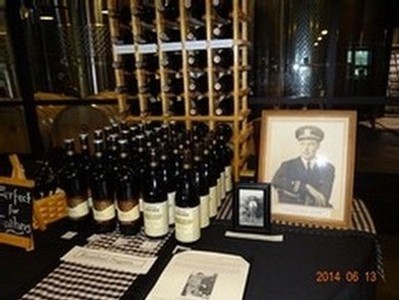 For the whole month of November, we'll be honoring our active duty and veteran military with free tastings. Here's a photo of the winery's founder, Fred S. Johnson Sr., who served in the Navy as a pilot during World War II.
---
HOLIDAY DESSERT PAIRINGS IN THE WINERY
(beginning November 7)
Mulled Wines & Triple Ginger Cookies

Maple Liqueur Hot Toddy & Pumpkin Pecan Crisps

Fortified Wines & Biscotti
---
TASTING ROOM OPEN DAILY 10am-6pm
Tastings at the winery with social distancing.
Please, due to space limitations, no groups larger than six.
CURBSIDE DELIVERY AVAILABLE 716-326-2191
---
FREE HOLIDAY SHIPPING PROGRAM
November 1 - December 31
Learn more....
---
#JohnsonEstateWinery

Forward this email to a friend.