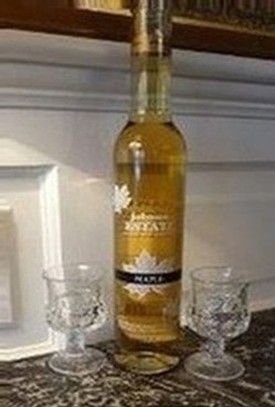 ---
---
There's something about March. The sun begins to shine more regularly - sometimes blindingly on the snow - and the grape vines, depending on the variety, take on the color of cinnamon sticks or golden straw. This year, the winter has been cold and snowy, but the days are getting longer and we know that spring is coming and that the maple sap has begun to run.

It has become a tradition at Johnson Estate to celebrate NYS' Maple Weekends. This year, however, due to pandemic precautions, we will not serve French Crêpes in the winery. BUT, we have again prepared our French Crêpes Kits (availabe in the winery and online); so that you may make them at home!

Jennifer & Fred Johnson
PS Johnson Estate just learned that its Freelings Creek Traminette won the "Best of Class" award at the 2021 NY Wine Classic. You're invited to the virtual award ceremony on March 18th. Learn more and register here.
---
VIRTUAL COOKING & TASTING CLASS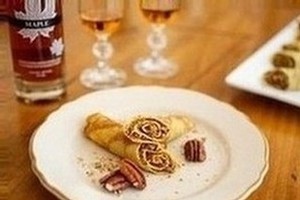 Featuring Chef Edward Work
&
French Crêpes & Fancy Ground Nuts Paired with Maple Liqueur
More details coming soon - a virtual cooking & tasting class
with Chef Ed and Jennifer Johnson
Thursday, April 1, 7pm
---
MAPLE LIQUEUR
Johnson Estate's unique Maple Liqueur, first released in March 2015, is now a popular "GOLDEN" tasting room favorite. Winemaker, Jeff Murphy, makes this fortified apéritif (20% alcohol) with local maple syrup and estate-grown grapes and grape spirits. It is a delicious pre-dinner or dessert wine, tasting a little like a combination of sherry and ice wine with a smooth maple finish.
Awarded a GOLD Medal and 93 Points by Tastings.com.
---
JOHNSON ESTATE'S FRENCH CRÊPE KIT
Dessert or Easter Brunch?


We found these cute jars - perfect for fancy nuts - we couldn't resist!
The French Crêpe Kit includes a printed recipe, Big Tree maple syrup, white and buckwheat (a French, gluten-free favorite) flours, & fancy nuts.
Add a bottle of Maple Liqueur - you're all set! $ 38.00
Here's a ONE-CLICK to put the Crêpe Kit and Liqueur into your cart!
---
AT THE WINERY
Open Daily 10AM - PM
Open for tastings and purchases. We are happy to take orders by phone.
Curbside delivery is always available.

---
#JohnsonEstateWinery

facebook.com/JohnsonWinery