Dear Friends,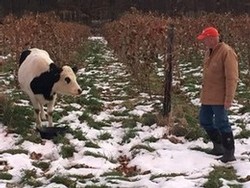 Yes, as our Instagram friends know, this heifer first started visiting our Niagara vineyards in early October and she hasn't yet been convinced to move back to her owner's nearby farm. Fred is trying to tame her with deliveries of sweet grain and has started calling her "Black-Eyed Suzy" (though we need a naming contest since our customers are offering much better wine-related suggestions!). And no, she is not on OUR menu next week!

But, Thanksgiving is just eight days away. And we would be remiss not to provide a quick reminder that it is still possible to order Johnson Estate wines in time for the holiday. Most shipments to Pennsylvania, Ohio, and New York are delivered in two days - so if you order by 8AM on Monday and we ship on Monday afternoon, you will have the wine in hand by Thursday.

And yes, there is FREE holiday shipping on minimum case orders of twelve 750ml bottles (and see details for our holiday special on orders of six 1500ml bottles). You are welcome to order online and we would be pleased to take your order by phone at 800-Drink-NY.

Thank you for serving our wines at your table - we wish you and your family a wonderful Thanksgiving!
Best Regards,
Jennifer & Fred Johnson, Johnson Estate Winery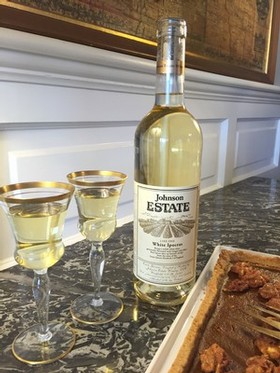 ---
REGIONAL TASTINGS
Visit this calendar to see where Johnson Estate wines might be sampled this month!
---
RECIPES
Here's one of our holiday favorites - White Ipocras paired with Pumpkin Tart with Hazelnut Crust.
And, since we are in the world's largest Concord grape belt, some recipes featuring them....
---
LOCAL TURKEY AND MEATS
For those customers who are in the region and need a fresh turkey,chicken, or other meats, here are some resources for you:
* Good Grass Farm * Parable Farm *
Avid Farms