Favorite Cheese Pairings for Johnson Estate Wines
Cheese and wine are natural pairings, with the fat and protein in the cheeses complemented by the acidity in wines. Younger wines and cheese tend to be less complex than older vintages and often pair well together. Similarly, the same is true for older vintages – older cheeses are more complex and have more body; so do wines.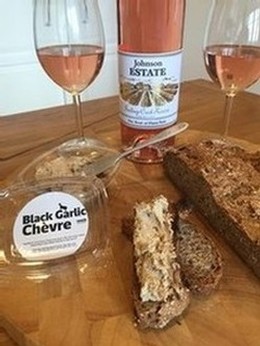 Here's some of our favorite pairings for cheeses now available in the winery*:

Seyval Blanc: Yancey Fancy XXX Cheddar* (with Quince Paste*)
Riesling & Traminette: Yancey Fancy Bergenost*
Cabernet Sauvignon: Yancey Fancy Smoked Gouda*
Founders' Red: Yancey Fancy Smoked Gouda with Bacon*
Maréchal Foch: Goat Cheese
Queen's Catawba: Cranberry Cheddar*
Dry Rosé of Pinot Noir: Reverie Creamery's Black Garlic Chèvre

The winery sells cheeses AND a variety of tasty "accessories" including nuts and dried fruit – all good for that cheese board which you can build right in the comfort of your home and we will ship it directly to you! Build a SMALL BOARD or LARGE BOARD soon!

PS Here's what wine writer, Meg Maker, has to say about wine and cheese pairings.