Two weeks ago, we learned that our Chambourcin Ice Wine had been awarded a Double Gold Medal and 98 Points at the 2019 International Eastern Wine Competition. It was also awarded designations as "Best of Show", Best of Class, and Best Dessert/Late Harvest Wine. This feels like straight "A's" to us!
And yes, this is likely the best "grade" we have ever earned!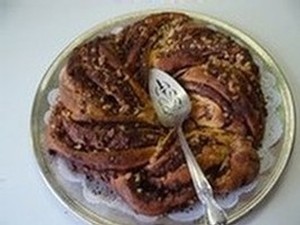 Some years ago, we learned with some tastings with John Bourdage, that our Chambourcin Ice Wine has a real affinity for chocolate, walnuts, and cinnamon or any combination of the three. This recipe for my mother's French Chocolate Cake permits the wine to be "the star of the show" while featuring all three not-too-sweet complementary flavors. We hope that you agree!
Mother's French Chocolate Walnut Coffeecake
2017 Chambourcin Ice Wine