SEPTEMBER - WHAT TO DO WITH ZUCCHINI?
Last year, in the farmhouse gardens, a volunteer butternut squash
provided us with the surprise of a dozen squash. SO,
this year's garden intentionally included zucchini, yellow,
and butternut squash plants underneath the apple trees.
The result? Prolific quantities of squash - which were often oversized,
due to travel and a lack of discipline on my part!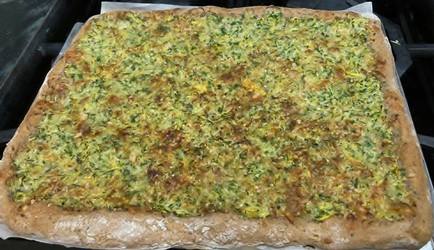 Here's the favorite recipe discovery of the summer,
just baked and ready to be cut into squares:
Zucchini Pizza, thanks to Jim Lahey's recipe which is featured here
(thank you Cousin Helen!)
What wines complement this Zucchini Pizza? You choose!
The basic recipe is a no-brainer for many dry or off-dry white wines,
including Toasted Oak Chardonnay or Seyval Blanc.
That said, the recipe is easy to adjust with the addition of a bit of
pesto, onions/herbs, or bits of vegetables/ham/bacon/smoked shrimp(!).
In addition, my three batches have taught me that this pizza can be made
with a variety of different cheeses - this one is made with Reverie Creamery's Gitane,
with caraway seeds, which makes an interesting flavor element.
At any rate, each iteration might suggest a different wine pairing.
Happy sampling!