---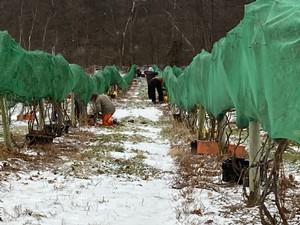 (Chambourcin vineyard, netted to protect grapes from birds)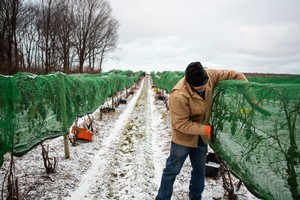 (Owner Fred Johnson, with a "back-hand" on the frozen grapes)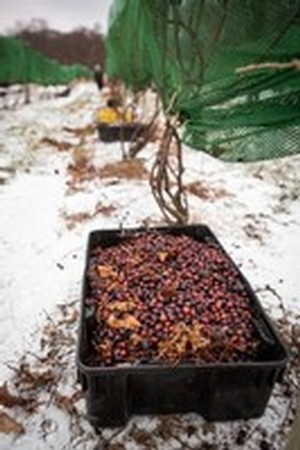 (Crate full of frozen Chambourcin grapes)
---
Well, Mother Nature finally cooperated.
The temperatures here in Western New York were low enough on Sunday, Monday, and Tuesday to properly freeze our netted Chambourcin grapes so that they were ready for harvest. The small harvest of roughly 7,000 pounds of frozen-like-glass grapes (yes, that's lots of crates full of grapes) was completed on Tuesday morning. There's Owner Fred Johnson in the middle photograph, with his "backhand" on the frozen grapes. Winemaker Jeff Murphy and his team slowly pressed the grapes over many hours to obtain about 120 gallons of "elixir" that will become our 2021 vintage of Chambourcin Ice Wine.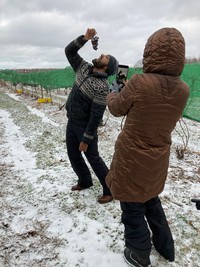 While we did not open the harvest to customers and friends this year as we sometimes do (thank you pandemic), we did have two guests who were on a videographic mission.
Here's Jaison K., posing with frozen grapes! We look forward to seeing his video of the harvest sometime in the future!

Until then, stay warm and well,
Jennifer & Fred Johnson
---
P.S. Think you want to help? Just email Jennifer here and she will put your name on the list of those interested in helping with the ice wine harvest next year!

P.S. Our GOOD NEIGHBOR Free and Discounted Shipping Programs are continuing in 2022. Please note our NEW promotion codes!
---
ICE WINE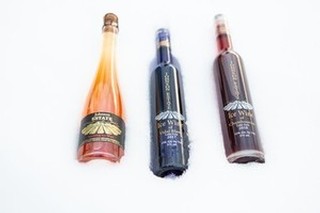 The Perfect Valentine's Gift
Ice wine is a special wine and its sweet complex flavors make it an elegant gift. If you prefer honey and vanilla flavors, choose the Vidal. If you prefer berry flavors, choose the Chambourcin. And if you like sparkling wines, the Sparkling Rosé has the perfect balance of smooth mousse-like bubbles and sweetness.
Here's some pairing suggestions for all three! And don't miss our gift boxes, several with chocolate, here.
---
BUILD YOUR OWN CHEESE BOARD
Build your OWN cheese board in the comfort of your home - and we will ship it to you!
Small Board Large Board
The above links are on Chautauqua's Shop Where I Live website.
---
WINERY HOURS -
Sunday-Thursday 10AM - 5PM
Friday & Saturdays 10AM -6PM
Open for tastings and purchases. We are happy to take orders by phone.
Curbside delivery is always available, even in the middle of a snowstorm!
---



Forward this email to a friend
and invite them to sign up for our newsletter!