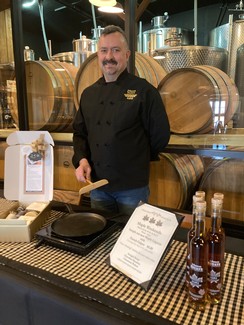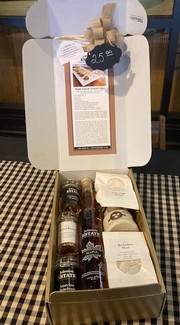 Johnson Estate, while not a producer of maple syrup, joined the NYS Maple Association seven years ago when we first began producing our Maple Liqueur - made with local maple products of course! And that is also when we began the celebration of NYS Maple weekends with our French Crêpes.
This year, come meet Chef Andy Smith, our new Food Service Manager for FLIGHT, our outdoor location for flights of wines and cheese and charcuterie. He will be making the French crêpes with fancy ground nuts in the Tasting Room so that you can enjoy them paired with our Maple Liqueur. $5/person

Maple Weekends - offered on both Saturdays and Sundays - Noon to 4pm,
March 12th - 27th

And yes, if the winery is too far away, you may purchase your own
French Crêpe Kit to make these treats at home!
---
THOSE GOLDEN AWARDS
We're always proud, but not always surprised, when our wines are recognized in various competitions. Here's the latest!
2022 International Eastern Wine Competition (East Meets West)
GOLD, 93 Pts., Toasted Oak Chardonnay
GOLD, 94 Pts., Maréchal Foch
GOLD, Best of Class, Ives
DOUBLE GOLD, 96 Pts., Chambourcin Ice Wine
---
FREE & REDUCED PRICE SHIPPING PROGRAMS CONTINUE
We hope that you know all about our Good Neighbor Programs!
Learn more here.
---
ON THE FARM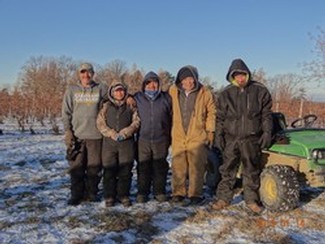 Yesterday, for the first time in weeks, I couldn't find any snow in the gardens. But today, it has begun snowing again! This little respite from that white blanket was a little nice for our farm staff (pictured above after an ice wine harvest three years ago) who have been busy pruning the grapes all winter. Now the vineyard rows are littered with grape vine cuttings;
a little sign that spring is on its way.
---
WINERY HOURS 10am-6pm Daily
Open for tastings and purchases daily. We are happy to take orders by phone.
---
LAKE ERIE WINE COUNTRY
Don't forget that tickets are now on sale for Wine & Tapas Weekends -
May 13-15 & May 20-23, 2022!
Visit LEWC's website for information and reservations.