Father's Day at the Farm
During his lifetime, the winery's founder,
Frederick S. Johnson (1921-1998)
,
travelled the globe as a agricultural consultant, but loved his farm in Western New York most of all. He would approve, we think, of the improvements we have made and the grapes we have planted over the last several years. He would be celebrating not only Father's Day, but the blossoming of the grapes, depicted on the right - which happens at the same time. And yes, those tiny white whispy strands are the grape blossoms!
Happy Spring - Fred and Jennifer Johnson
PS And a toast to honor the 75th Anniversary of D-Day.
---
Ways to Celebrate Father's Day: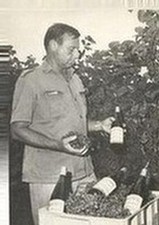 1. Bring Dad to Johnson Estate:
"Guy" food, wine & spirits tastings on June 15th & 16th.
Join us for a Sunday Morning Vineyard Walk at 9:30am.

2. Bring Dad to a nearby Instore Tasting of Johnson Estate Wines:
See Jeremy's regional tasting schedule here.

3. Dad is too far away - Let's ship some wine!
Or buy him a GIFT Certificate.

4. Celebrate at home with Recipes & Wine Pairings.
---
And Don't Forget the Rosé! Today is National Rosé Day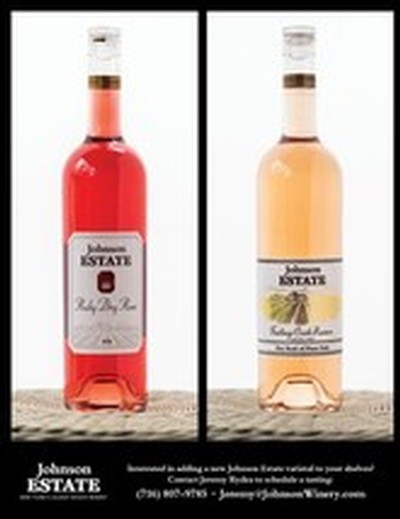 We would be remiss not to comment on rosé wines - Johnson Estate now has two dry rosé wines. We'd like to propose that summer - all summer! - should be rosé days. Here they are - two different colors and two different grapes - both delicious!
Free-run juice from estate-grown Maréchal Foch - makes beautifully ruby-colored dry rosé. Fresh and light flavors. Awarded Gold Medal, 2018 Finger Lakes Wine Competition.
Dry Rosé of Pinot Noir
New product for spring 2019! Free-run juice from estate-grown Pinot Noir. In the French-style, light, crisp and slightly tannic
.