ON THE ESTATE
Two weeks ago, we spent a morning with Derek and Mike, hosts and creators of Buffalo Happy Hour Podcast. While their podcasts usually focus on craft-distilled beverages, the two have decided to expand their efforts to include wineries - and our winery is their first! Listen to their podcast, Special Interview #23, for a discussion with us about the history of Johnson Estate and more. Enjoy this summer - harvest is coming!
Jennifer & Fred Johnson
PS Here's Fred riding the picker at harvest. Image by friend and photographer,
Elmore DeMott.
---
NEW RELEASE -
BLUEBERRY LIQUEUR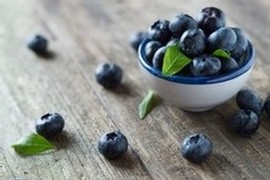 Just released in the winery - our new Blueberry Liqueur, made from locally-grown blueberries. Yes, Chautauqua is famous for them. This fortified dessert wine is perfect with nuts and desserts of all kinds. And while it is 18% alcohol, the abundant berry flavors and smooth sweetness make it easy to drink.

And if you haven't already, don't forget to sample The Queen's Catawba, a bubbly sweet wine. Or if you prefer dry wines, the 2019 Dry Rosé of Pinot Noir is
a perfect light dry red wine for summer meals.
---
FOR THOSE WHO LOVE OUR SEMI-DRY RIESLING
You are not alone if you love our DOUBLE GOLD Award-Winning 2017 Semi-Dry Riesling, a wine that stood head and shoulders above all other North American Riesling submissions at the 2019 Finger Lakes Wine Competition. It is, alas, almost sold out! We expect to run out of the exceptional 2017 vintage within the month, so make sure to get your order in soon. P.S. Winemaker Jeff Murphy tells us that the 2019 Semi-Dry Riesling will rival that of 2017!
---
COMING SOON - NEXT WINE CLUB SHIPMENT, SEPTEMBER 14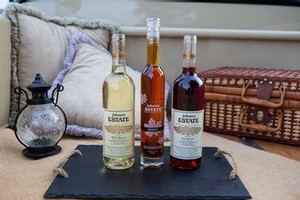 Our Club options are completely customizable and tailored to suit your palate -
there's still time to join before the next shipment. Learn more....
---
SEPTEMBER:
GREAT GRAPE WALKS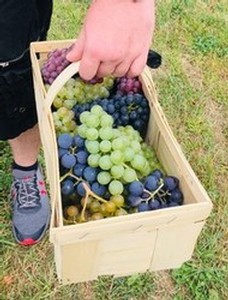 Sample & pick grapes on this "self-guided" walk in the Estate vineyards.
Weather permitting, September 13,20, 27, & October 4.
Event Calendar & Reservations
---
OUTDOOR TASTINGS IN THE FARMHOUSE GARDENS
SATURDAYS & SUNDAYS, 11am-5pm
You may purchase samples or wine by the glass to enjoy in the Farmhouse Gardens - weather permitting.
TASTING ROOM OPEN DAILY 10am-6pm
Tastings at the winery with social distancing. Please, due to space limitations inside,
no groups larger than six.
CURBSIDE DELIVERY AVAILABLE 716-326-2191
---
---
#JohnsonEstateWinery

Forward this email to a friend.