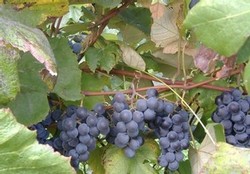 ---
WINE AWARDS WINE CLUB FOOD FOR WINE
---
HISTORY OF CONCORD GRAPES
Our recent Facebook post, gone viral, reaffirmed just how special the Concord grape belt along the south shores of Lake Erie really is. Plenty of us, including the diaspora from this region, wax nostalgic when we think about the aroma of grapes on a September day. Despite more recent plantings of wine grapes (of which we have been a key driver), Concord grapes, planted here in the 1870's, dominate this region's 30,000 acres of vineyards - many with great sunset vistas on or overlooking Lake Erie. The region's heritage is uniquely tied to this special grape and its heydays - first as the home of fresh-grown grapes shipped by rail to customers across the country in the late 1900s and then as the Concord juice and jelly capital of the world.
---
AT THE ESTATE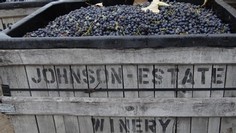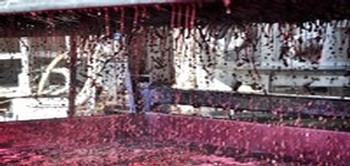 Our family has grown Concord grapes at Johnson Estate for well over a century. The winery prides itself on growing very high-quality fruit, with late-as-possible harvests and a certain sacrifice of big yields in order to make this happen each year. The result? When we make Concord wine, which we do (unlike some big Eastern wineries) without the addition of water, the flavors are intense and the wine is of unparalleled quality. To call it "fruit forward" would be a sizable understatement; its aroma is pure grape jam. It is not Merlot. To those of us who grew up here but also love traditional wines, it is a wonderful change of pace, a dessert wine, or with a couple of Jennifer's peanut butter cookies, a bit of sheer afternoon indulgence.

Johnson Estate's most recent Concord Wine award was 92 Points at the Eastern International Wine Competition. We're also proud of the Double Gold and 97 Points from the 2019 San Francisco Wine Competition, among others.
---
ADULT PB & J
Paired with Johnson Estate's award-winning Concord, these
Peanut Butter Chocolate Cookies
will please everyone. Be sure to serve Chautauqua County's Grower's Grape Cooperative
Concord grape juice
to the youngsters. Oh, and don't forget the
wine
!
---
LAST CHANCE! REGISTRATION ENDS AT MIDNIGHT
Big & Small Walks Fundraiser - Camp Onyahsa
Saturday, April 24, 2021, 9:45am (and
the weather forecast is good)
The YMCA Camp Onyahsa is sponsoring a 5K Run/Hike or a 2K Walk. With prizes for those who catch a photo of Big Foot! Children under ten are welcome to participate with parents.
Here's the link to sign up
for this "outdoors" fundraiser for this special Chautauqua County children's camp.
---
AT THE WINERY
Open Daily 10AM - 6PM
Open for tastings and purchases. We are happy to take orders by phone.
Curbside delivery is always available.
---
FREE AND DISCOUNTED SHIPPING
Visit this page for details & promotion codes.
---