Grape Varietals
---
European Vinifera

French-American Hybrids

American Labrusca

Cabernet Sauvignon*
Chardonnay
Merlot*
Pinot Noir
Riesling

Chambourcin
Chancellor
Marechal Foch
Seyval Blanc
Traminette
Vidal Blanc

Catawba
Concord
Delaware
Ives
Niagara

European Vinifera Grapes (Vitis vinifera)
---
Chardonnay
Chardonnay is the most fashionable white wine variety in the world. A fairly vigorous variety, Johnson Estate planted its first Chardonnay in 2013 and hand-picked the first harvest from the young vines in 2016. It forms a small, relatively compact, winged-cylindrical cluster of small berries, not as densely closed as that of Pinot Noir.
The Wine: Freelings Creek Chardonnay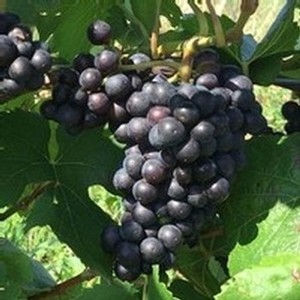 Pinot Noir
Pinot Noir is a red grape variety, most widely known from Burgundy and now Oregon, with tight, pine-cone shaped clusters. Our Pinot Noir vineyard has three different Pinot Noir clones, all with grafted root stock. The clones were selected to create a balanced, aromatic and complex wine.
The Wine: Freelings Creek Pinot Noir
Riesling
This variety is a shy cropper, but is disease resistant. The long delicate bunches ripen late and develop excellent flavors during our moderate and extended Germanic summers and autumns.
The Wines: Freelings Creek Black Locust Riesling, Dry Riesling, Semi-Dry Riesling, and Sweet Riesling
Cabernet Sauvignon
It is a vigorous but small producer which develops late in the season. It flourishes on most types of soil, consistently showing its style and quality. The grape cluster is cylindrical-conical, made up of small round berries, very black in color. We purchase the grapes from a grower on the north fork of Long Island.
The Wine: Freelings Creek Cabernet Sauvignon
Merlot
Merlot is a vigorous, productive vine, which buds and ripens early. The grape cluster is cylindrical and the berries are round, but large and less intensely colored. We purchase Merlot grapes from select Long Island growers.
The Wine: Freelings Creek Merlot
French-American Hybrid Grapes
---

Chambourcin
The Chambourcin wine grape was developed in France in the late 1800's. There were only a couple hundred acres planted in the United States in the 1970's, but its popularity grew considerably in the late 1980's. Chambourcin yields good crops of small navy blue berries with long, loosely clustered bunches that ripen late during the harvest season.
The Wines: Chambourcin, Chambourcin Ice Wine

Chancellor
Chancellor is a classic dry red wine grape developed in France during the late 1800s. Chancellor is a vigorous and fruitful vine that produces excellent dark, rich wines. Its susceptibility to disease in hot, humid locations limits the Chancellor's successful cultivation in the east. The cooling and drying Lake Erie breezes that continuously blow over Johnson Estate result in an excellent microclimate for Chancellor. The grape clusters are long and loose, with medium-sized berries that ripen in midseason.
The Wines: Founders' Red, Chautauqua Rouge, House Red, Proprietor's Red, Port

Maréchal Foch
The Maréchal Foch (pronounced "mar-esh-shall-fosh") wine grape, named after the famous World War I French marshal ("maréchal") Ferdinand Foch, is relatively vigorous, fungal resistant, and cold-hardy. It is susceptible to ozone pollution and appreciates irrigation for its relatively shallow roots. It was developed from crossing White Riesling, Burgundy, Gamay, and Pinot Noir grapes. The small berries are the first in our vineyards to ripen; the birds they attract are dissuaded with a combination of kevlar balloons, streamers, hawk recordings, and cannons. Maréchal Foch is used to make a variety of styles of wine, including a light red wine similar to Beaujolais, an extracted wine with intense dark "inky" purple color and unique varietal character as well as sweet, fortified, port-style wines. Wines made from Maréchal Foch tend to have strong acidity, aromas of black fruits and, in some cases, toasted wheat, mocha, fresh coffee, bitter chocolate, vanilla bean, and musk.
The Wines: Maréchal Foch

Seyval Blanc
Seyval Blanc, released in 1919, has become the premier French-American white wine grape in the east as well as in England. It is considered by many to be one of the finest of the French-American hybrids and is the most widely-used hybrid in white wines. It ripens mid-season to large, compact, conical bunches of slightly elliptical greenish-yellow berries. A well-made Seyval blend can compete favorably with Chardonnay or Sauvignon Blanc.
The Wines: Seyval Blanc, Chautauqua Blanc, Chautauqua Rouge

Traminette
A hybrid of Seyval and Gewurztraminer crossed by Herb C. Barrett circa 1965. He sent seed from the cross to the New York State Agricultural Experiment Station grape breeding program at Cornell for development. It was found to have excellent wine quality, combined with good productivity, partial resistance to several fungal diseases, and cold hardiness superior to its acclaimed parent, Gewurztraminer, while retaining a similar character. The vines are productive with attractive blush-colored fruit that makes aromatic, floral wines.
The Wines: Freelings Creek Traminette, Freelings Creek Sparkling Traminette

Vidal
Frenchman J.L. Vidal crossed the famous Trebbiano with another hybrid in Bordeaux in the late 1800s. Vidal Blanc has very long cylindrical clusters, almost always shouldered, that are tightly packed with small greenish-white berries with dark brown spots. We make two German-style white wines with the Vidal Blanc. Our multiple award-winning semi-dry Vidal Blanc is comparable to a dry Riesling from the Mosel Region in Germany.
The Wines: Vidal Blanc, Vidal Blanc Icewine, Chautauqua Blanc
American Labrusca (Vitis labrusca)
---

Concord
This grape was first planted in 1818 in Brocton, New York, just ten miles from our farm, by a Baptist deacon named Elijah Fay. In 1859 Joseph Fay, Elijah's son, opened the first winery. In 1897 there was a surplus of Concord grapes which attracted two dentists from Watkins Glen, NY. By 1913 Doctors Thomas and Charles Welch had made the Concord grape a household name with their "unfermented grape juice" as they called it back then. Soon after that, Westfield became known as the "Grape Juice Capitol of the World." Chautauqua County has the largest concentration of Concord grapes in the world. Generally known as a juice and jam grape, Johnson Estate proudly used this grape in very popular house wines.
The Wines: House Red, Concord, Red Ipocras

Delaware
The Delaware grape is our most plentiful at just over 20 acres. The founder of Johnson Estate, Fred Johnson, originally planted this reddish small-clustered grape for the production of champagne in the Finger Lakes. It is a delicious and favorite eating grape. We use the Delaware as a semi-dry varietal, it is also used in our white-zinfandel-style Chautauqua Blush, and in our very famous late harvest wine, Liebestropfchen.
The Wines: Chautauqua Blanc, Liebestropfchen, Chautauqua Blush, Proprietor's Red, White Ipocras, Cream Sherry

Ives
Ives has a dense color and rich grapey flavor. It was introduced by Henry Ives III of Cincinnati, Ohio in 1840 and planted along the banks of the Ohio River during the 1850s. The grand New York State "port" wines, popular after the repeal of Prohibition through the 1960s, were dependent on Ives. Recently, the growing of Ives has become difficult since is very susceptible to damage from ever increasing air pollution. We have found that irrigation and summer sprays of foliar nutrients have overcome much of the effects of ozone air pollution.
The Wines: Ives, Pink Niagara, Chautauqua Blush, House Red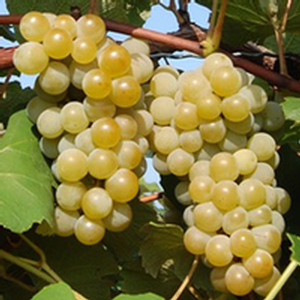 Niagara
Niagara is frequently used as a juice grape. We use it exclusively in our House Wines, where it imparts a grapey, fruity flavor. The yellow-green grape was developed by researchers in Niagara County, NY during the 1860s. It is a Native American hybrid - a cross between the Concord and Cassady grapes.
The Wines: Niagara, Pink Niagara, White Ipocras