Dear //FirstName//,
We hope that you can join us!
We have about 20 seats available for this year's "soiree à la française", Romance in France.
The evening will begin at 7:00pm with wine and appetizers in Johnson Estate's historic tasting room,
followed by a stroll in the iris gardens (weather permitting!), and a candlelit dinner.
This year, Chef Brian Stahlsmith and Marya Johnson, owners of Stedman Corner's Cafe,
will prepare a special four-course meal paired with Johnson Estate's wines.

You may have heard us say before that "Estate" on our wine bottles means the same as
"mis en bouteille au château" for French wines.
At Johnson Estate, virtually all of our wines are made completely on the premises
from estate-grown grapes and this dinner celebrates our long vineyard heritage.
Please make your reservations online by May 21st.
$65/person includes all wines and gratuities.
---
Romance in France, Estate Dinner, May 25th, 2019
Featuring Guest Chefs Brian Stahlsmith & Marya Johnson
Tablescape by Mary Marzec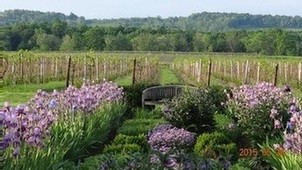 Les Apéritifs – In the Tasting Room and Farmhouse Gardens
Smoked White Fish + Creamy Avocado + Rye Crackers
Socca Pizza Topped with Ramp Pesto & Goat Cheese
Tomato & Herb Tarts

La Soupe
Corn Velouté with Charred Asparagus and Puffed Pastry
Freelings Creek Reserve Semi-Dry Riesling (Double Gold 2019 Finger Lakes)
L'Entrée
Moroccan Chick Pea Stew with Mango Chutney and Roasted Chicken
Freelings Creek Reserve Pinot Noir

La Salade
Mixed Baby Greens with Goat Cheese, Hazelnuts and Heirloom Tomatoes with Apple Cider Vinaigrette
Freelings Creek Reserve 2017 Seyval Blanc (Gold 2019 International Eastern)
Le Dessert
Vanilla Crême Brulée Garnished with Fresh Raspberries and Raspberry Sauce
May Wine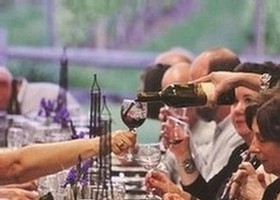 ---
Summer Events at Johnson Estate - On the Website Now!
Sunday Morning Vineyard Walk, 9:30am
May 26, June 16, July 7 & 21, August 4 & 18
What's Terroir?: Vineyard Walk & Tastings, 2:30pm
July 2 & 23, August 6 & 13
The Great Grape Walk, 9:30am
September 8, 15, & 22
---
Calendar of Tastings at Regional Retail Stores
---
PS The 2017 vintage of our Sparkling Traminette is back on our shelves!