We continue to host Outdoor Tastings in the Farmhouse Gardens on the weekends - which are pictured above. When you visit, you'll be able to see the abundant and happy grapes - which are just six or so weeks from harvest! Join us for an outdoor tasting this weekend,
Saturday and Sunday, 11am-5pm.
---
NEW! THE QUEEN'S CATAWBA
Winemaker Jeff Murphy has been busy supervising bottling of wine and working on a series of new wines which will be added to our portfolio in 2020. This week, the first one was released - a sweet sparkling Pink Catawba wine was added to our shelves and onto the website! We call it "The Queen's Catawba", and served cold, it's the perfect drink for summer days. Learn More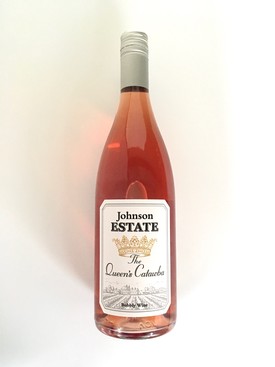 ---
SUMMER'S BLUEBERRIES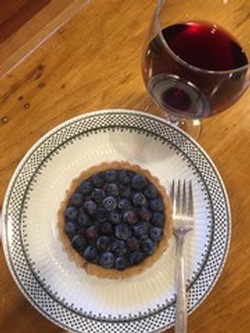 Chautauqua County is also celebrating its great abundance of fruits. Blueberries are ripe and easily found at local farmer's markets, fruit stands, and U-Pick farms. Jennifer just posted her favorite Blueberry Concord Grape Recipe - and will be adding a cheesecake version for National Cheesecake Day on July 30th! Pair the Blueberry Concord Grape Tart with Chambourcin. We'll still testing the best wine pairing for the Concord Blueberry Cheesecake (maybe Liebestropfchen or Concord?).
---
OUTDOOR TASTINGS IN THE FARMHOUSE GARDENS
Saturdays & Sundays 11am-5pm (weather permitting)
Serving samples and wine by the glass. Learn More....

TASTING ROOM OPEN DAILY 10am-6pm
Yes, we are again providing tastings at the winery - limited capacity. No groups larger than six.

CURBSIDE DELIVERY ALSO AVAILABLE 716-326-2191
Just call the winery to place your order.
---
SHIPPING UPDATE: 1.5mL House & Prop. Red
In April, we temporarily expanded the GOOD NEIGHBOR free shipping program to include our popular 1.5mL House and Proprietor's Red, which we do not bottle in 750mL bottles.

Now that our largest wholesale customer, the Pennsylvania Liquor Control Board (PLCB), has reopened its stores, House and Proprietor's Red (1.5mL) can once again be purchased at your local PLCB store, where it is priced at $9.99/bottle. We are happy that the PLCB can again service its loyal customers. Note that if your local PLCB store does not carry your old (or new!) Johnson Estate favorites, please make sure to request them.

After August 1st, 2020, our House and Proprietor's Red will no longer be eligible for our free GOOD NEIGHBOR shipping program. Our GOODNEIGHBOR shipping program continues on six to twelve 750mL bottles. We thank you for your support and wish you a great summer day!I
---
---
#JohnsonEstateWinery


Forward this email to a friend...