ON THE ESTATE
The 2020 harvest continued last week with the picking of abundant Chancellor, Riesling, and Delaware grapes. Owner Fred and Winemaker Jeff Murphy are brainstorming about a sparkling passionate peach wine to use the extra Delaware crop. How does that sound?!

Our first 2020 Fall Foliage Walk yesterday was wonderful. Thank you Mother Nature! These will be self-guided walks with social distancing - weather permitting of course. We hope that you can join us - and we've just added two additional walks for October 25th and Halloween with special "warm" mulled wine pairings.
Happy Fall!
Jennifer & Fred Johnson
---
DRY ROSE OF PINOT NOIR - 20% Discount Continues
Our favorite wine this summer has been the Dry Rosé of Pinot Noir and as this vintage was pretty large, our discount continues! We hope that you give it a try if you have not already - the discount will automatically be applied when the Dry Rosé of Pinot Noir
is put into your cart.
---
RIESLINGS & RECIPES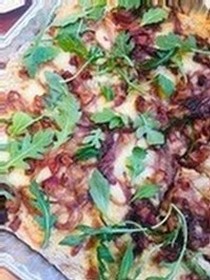 Johnson Estate planted its first Riesling vineyard in 2009. Since then, our portolio of Riesling wines has grown to four award-winning wines - ranging from very dry to sweet. In normal years, we would celebrate the upcoming Riesling harvest with "Federweisser", a young Riesling wine paired with German Onion Pizza (Flammekuchen). Instead, this year, we're providing some recipes which complement each of their flavor profiles - for you to try at home if you like. Learn More....
---
MULLED WINES - THE ANSWER TO COLD WEATHER
Many of Johnson Estate's customers love our mulled wines - Red and White Ipocras (named after Hippocrates). The Red Ipocras features more clove flavors and the White Ipocras, more ginger. Both are delicious warm to enjoy on a cool day -
like the one depicted below!
---
FALL FOLIAGE WALKS, OCTOBER 11 & 18
New time slots added to the schedule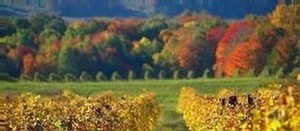 Event Calendar & Reservations
---
OUTDOOR TASTINGS IN THE FARMHOUSE GARDENS
SATURDAYS & SUNDAYS, 11am-5pm
If our nice fall weather continues, we'll also continue our outdoor tastings! Perfect for what may be the last of our outdoor tastings in 2020. You may purchase samples or wine by the glass to enjoy in the Farmhouse Gardens - weather permitting.
TASTING ROOM OPEN DAILY 10am-6pm
Tastings at the winery with social distancing. Please, due to space limitations, no groups larger than six.
CURBSIDE DELIVERY AVAILABLE 716-326-2191
---
---
#JohnsonEstateWinery

Forward this email to a friend.