ON THE ESTATE
The 2020 harvest has begun and our Pinot Noir, Ives, Nigara, and Seyval Blanc grapes have been picked and the farm and crush pad crews are working long days. Today, they harvested Maréchal Foch grapes. And yes, the fruit quality is good this year and Fred has noted that his crop of Niagara grapes has never looked better or bigger!

If you want to sample some grapes and are in driving distance to Johnson Estate, our Great Grape Walks might be of interest. We give you a Greenfield wooden basket and a set of borrowed clippers so that you can fill it to the brim! And yes, sampling allowed and we've just added some new time slots for these walks. In October, we will be hosting our Fall Foliage Walks - all with social distancing and located outside - weather permitting. We hope that you can join us!

Jennifer & Fred Johnson
---
20% DISCOUNT - DRY ROSÉ OF PINOT NOIR


Okay, we'll admit it. Our favorite wine this summer is the Dry Rosé of Pinot Noir. Easy to drink before and with dinner - both cold and room temperature.
As we're trying to prolong the summer for as long as possible -
this summer favorite will be discounted 20% until the end of September.
---
TIME FOR RED WINES?
Our winemaker, Jeff Murphy, and retail staff member, Nancy Pantall have "good palates" - and so we pay attention to them when they say that a wine is "particularly good". Nancy prefers red wines and her favorite this month is our 2017 Cabernet Sauvignon - a smooth and smoky Gold-medal winner. And here's the link to other red wines, perfect for the fall meals to come.
---
GREAT GRAPE WALKS
SEPTEMBER 27 & OCTOBER 4
We've added a few time slots to the schedule, though Sept. 27 is mostly sold-out.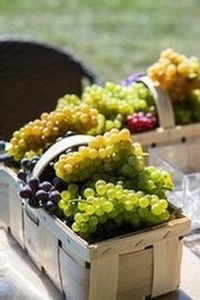 Sample & pick grapes on this "self-guided" walk in the Estate vineyards.
Weather permitting
FALL FOLIAGE WALKS, OCTOBER 11 & 18
Event Calendar & Reservations
---
OUTDOOR TASTINGS IN THE FARMHOUSE GARDENS
SATURDAYS & SUNDAYS, 11am-5pm
You may purchase samples or wine by the glass to enjoy in the Farmhouse Gardens - weather permitting.
TASTING ROOM OPEN DAILY 10am-6pm
Tastings at the winery with social distancing. Please, due to space limitations,
no groups larger than six.
CURBSIDE DELIVERY AVAILABLE 716-326-2191
---
---
#JohnsonEstateWinery

Forward this email to a friend.