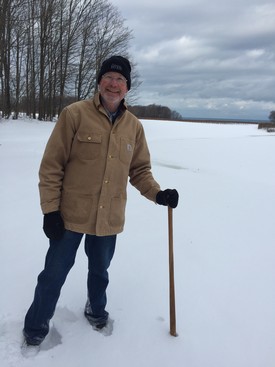 Owner Fred Johnson on a cold winter's walk at the farm - Lake Erie in the distance.
---
FORTIFIED WINES GIFT BOXES FOOD FOR WINE
---
Fred just read the weather report forecasting freezing artic temperatures for the northern half of the US. We could have used them last Saturday, when we completed the harvest of red Chambourcin ice wine grapes! And such cold weather makes us think of a warming beverage by the fireplace, maybe our fortified Cream Sherry or Ruby Port. Or perhaps the recently released versions - Kentucky-barrel-aged Old Oak Gold and Old Oak Ruby!
Stay well and warm,
Jennifer & Fred Johnson
---
AWARD-WINNING FORTIFIED WINES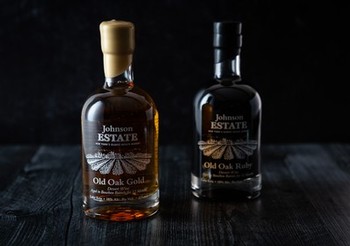 Old Oak Gold and Old Oak Ruby

Other Fortified Wines in Our Portfolio:
Ruby Port
Cream Sherry
Maple Liqueur
Cherry Liqueur
Blueberry Liqueur
---
AND MULLED WINES, ALWAYS A FAVORITE
Red Ipocras and White Ipocras - two sweet spiced wines made naturally with cloves, ginger, and cinnamon, are both good cold afternoon "pick-me-ups". Serve them warm with or without apple cider. And don't forget the Ginger Cookies!
---
FREE OR REDUCED PRICE SHIPPING PROGRAMS CONTINUE
We hope that you know all about our Good Neighbor Programs!
Learn more here.
---
WINERY HOURS
Sunday-Thursday 10AM - 5PM
Friday & Saturdays 10AM -6PM
Open for tastings and purchases. We are happy to take orders by phone.
Curbside delivery is always available.