---
FREE HOLIDAY SHIPPING REMINDER
We know that our customers appreciate our free shipping programs and now is a good time to remind everyone of the details for November and December. This program is applicable for 750ml bottles only. For those of you who love our House Red and Proprietor's Red, we now have these wines bottled in the 750ml so that your favorites also qualify for this free shipping.
Here's a quick summary of our holiday shipping program:
FREE shipping on twelve-bottle orders - 750ml or 375ml bottles only.
Please use the promotion codes below according to the number of bottles you would like:
Twelve Bottles - HOLIDAY12
Twenty-Four Bottles - HOLIDAY24
Thirty-Six Bottles - HOLIDAY36
In addition, our Good Neighbor Program for residents of NY, OH, & PA
provides free shipping for six bottle orders (750ml or 375ml).. GOODNEIGHBOR6

P.S. We're trying to make gift-giving easy this year with seasonally-curated collections of wines, all organized in "one-click" fashion to put your cart. We have gift cards, too, and can make sure to include them in your shipment to a friend or loved one. And yes!
Our free and discounted shipping programs do apply to these gift shipments.
And please do share this email with your family and friends.
---
HALLOWEEN - CHOCOLATE OR QUINCE PASTE?!
We know that we all just finished celebrating Halloween weekend - and that you might be thinking of chocolate, but I'm thinking of quince and cheese since it is time to pick quince to make Quince Paste. This "sliceable jam" is the perfect pairing for cheeses and wines, and is also great on toast. We love it on sharp cheddar paired with Dry Rosé of Pinot Noir or Dry Ruby Rosé, but any cheese plus quince "tastes like candy to me"!
PS For chocolate lovers: Johnson Estate has four different dark chocolate bars made for us by Anette's Chocolates -
now's the time to try the Dark Chocolate Cabernet Truffle Bar!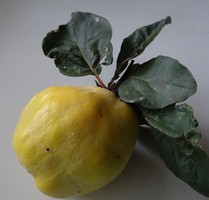 ---