September 14, 2021 | Frederick Johnson
Celebrating 60 Years -
Johnson ESTATE: Celebrating the Founder's 100th Birthday

NYS' oldest estate winery has multiple anniversaries to celebrate this year!
Until Sept 26th: Founders' Red & Brut - 20% Anniversary Discount! Use Code - 60YEARS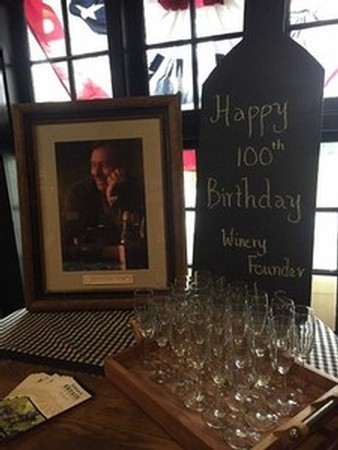 Westfield, (NY) – If you had been in the winery on September 5th, you might have been greeted with a glass of Johnson Estate's Brut sparkling wine so that you could join in a toast to the winery founder, Frederick S. Johnson Sr., who would have been 100 years old. And that's not the only anniversary being celebrated by Johnson Estate, NY's oldest estate winery. This year is also the 60th anniversary of the winery's establishment, as Fred Sr. began the winery on his father's fruit farm in 1961. Both the winery building and the old barn are now 100 years old and the farmhouse, where third-generation Fred Johnson Jr. lives with his wife, Jennifer, is 200 years old.

Fred Sr. would be proud to see the vineyards loaded with fruit, ready for harvest. And he'd be proud to see over forty award-winning wines filling the shelves of the century-old Tasting Room, formerly his father's apple cold storage facility. And on those shelves he would see our award-winning Founders' Red, named for Fred Sr. and his father. Founders' is made from Fred Sr.'s favorite Chancellor grapes (plus a little Pinot Noir), planted on the site of his father's favorite cherry orchard. And estate-grown, hand-picked and lightly-pressed Pinot Noir and Chardonnay are used to make the new dry Brut, the perfect celebratory wine with elegant effervescent bread notes. To celebrate these Labor Day Anniversaries, we're offering a 20% discount on both Founders' Red and our new Brut sparkling wine from September 5-26th. The discount is available in the winery or online (use the promotion code 60YEARS).

This year's anniversaries make it a fitting year to open FLIGHT, the name of the winery's new outdoor wine and food pairing location. It has beautiful vineyard vistas and permits guests to enjoy the sights and smells of harvest while savoring flights of wine, wines by the glass, and curated cheese and charcuterie boards which include locally-sourced seasonal fruits, nuts, crisps and more. FLIGHT will be open well into October, weather permitting and reservations are not required. And yes, the name FLIGHT was inspired by Fred Sr.'s service as a Navy pilot during World War II and Fred Jr.'s love of flying.

The 2021 harvest has begun and the winery's Great Grape Walks have started - they are the perfect way to experience the estate's vineyards, most first planted by Fred Sr. sixty years ago. These are self-guided walks during which guests sample and fill their baskets with premium estate-grown grapes, including Fred Sr,'s favorite, Chancellor. Afterwards, guests enjoy a flight of three wines and a "petite" cheese board at FLIGHT. Families with children and dogs with leashes are welcome. Visit our Event Calendar to learn more and to make reservations.

Johnson Estate Winery, with 110 acres of vineyards, is the oldest estate winery in NYS and a founding member of Lake Erie Wine Trail. For more information please visit www.JohnsonWinery.com, or www.facebook.com/johnsonwinery, or call 716-326-2191.

Click here if you would like to share this Press Release.