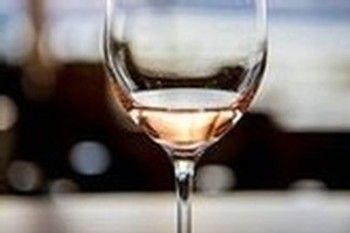 A glass of rosé - perfect for Valentine's day.
---
WINE GIFT BOXES FOOD & CHOCOLATE
---
Today is February 2nd - so there's still time to order something perfectly delicious for Valentine's Day. Our Gift Box page offers wine and pairings, from cheeses to chocolates, and our Food for Wine page is where you may select additional food items to pair with favorite wines. Don't forget that we can include a gift card with a personal message for your Valentine!
Sweet regards,
Jennifer & Fred Johnson
---
HIS OR HER FAVORITE WINE FOR DINNER
One of Johnson Estate's strengths is the fact that its portfolio includes a large variety of red, white, and rosé wines to suit many palates. This is the result of growing thirteen varieties of high- quality grapes which Jeff Murphy, our winemaker of nearly twenty years, uses to make delicious and award-winning wines, both dry and sweet. Here's some dinner ideas and recipes for our cold winter days:
Founders' Red (now 20% off) + Coq au Vin
Chambourcin + Slow-Cooked Lamb
Bright Steel or Toasted Oak Chardonnay + Quiche Lorraine
Semi-Dry Riesling + Tomato Bisque Soup
---
AND FOR DESSERT, CHOCOLATES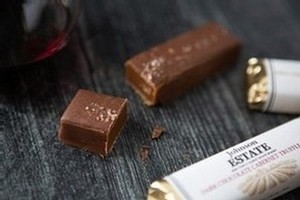 Anette's Chocolate Truffle Bars
Here's the Milk Chocolate Caramel - perfect pairing for our Cream Sherry or Old Oak Gold.
And the still-wrapped Dark Chocolate Cabernet Truffle Bar - perfect pairing with Founders' Red.



Chocolate Logo bars from Le Rouge Chocolates by Aarti
We've created special one or two-bottle gift box pairings for many of these chocolates - see them here. The titles are "one-clicks" - which put the gift box straight into your cart! Or shop for the chocolates (and other foods) right here.
PS Yes. There are four chocolate bars: four flavors: Dark, Milk, White & Ruby!
---
FREE & REDUCED-PRICE SHIPPING PROGRAMS
We hope that you know all about our Good Neighbor Programs!
Learn more here.
---
WINERY HOURS
Sunday-Thursday 10AM - 5PM
Friday & Saturdays 10AM -6PM
Open for tastings and purchases. We are happy to take orders by phone.
Curbside delivery is always available.