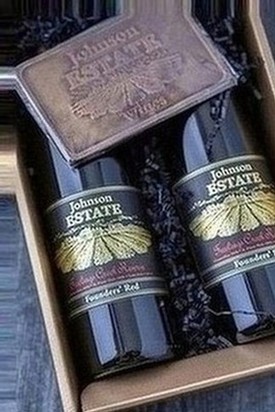 Founders' Red with logo chocolate bar by
Le Rouge Chocolates by Aarti (Westport, CT)
---
---
GIFT IDEAS WINE PAIRINGS/RECIPES
---
---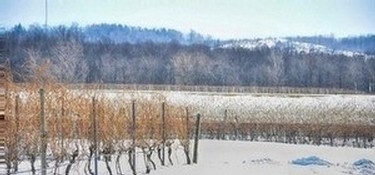 Western New York looks like a winter wonderland at the moment - snow everywhere! A good time to shop online. That said, the roads today were black or salty gray!, which means that this Virginia girl is permitted to drive. So, if that's the case for you and you are close by, we hope that you can pay us a visit to look for treats for your special someones. In either case, the Galentine and Valentine boxes will be ready for you!

Stay warm and well,
Jennifer & Fred Johnson
---
RED WINE & CHOCOLATE
I think that we could say that all of our red wines could be happily consumed paired with chocolates - whether dark or milk. So you choose! Other favorite chocolate pairings include Port, Sherry (especially with milk chocolate caramel), and
Chambourcin Ice Wine.
---
CHOCOLATE CHOICES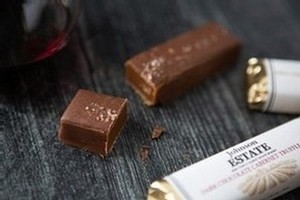 We have a complement of chocolate bars and tins - made especially for us by Annete's Chocolates and Le Rouge Chocolates. Learn more about the bars
and the dark chocolate disks here.
---
COMING SOON - FRENCH CRÊPE KITS!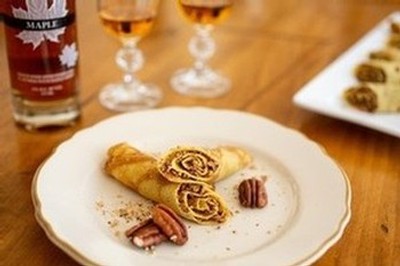 March is coming. And that's when we celebrate NYS Maple Weekends in our winery with our unique Maple Liqueur paired with French crêpes in the winery. We will also have on hand a limited number of French Crêpe Kits. We're starting a list - so let us know if you'd like us to reserve one for you!
---
WINERY'S WINTER HOURS -
Sunday-Thursday 10AM - 5PM
Friday & Saturdays 10AM -6PM
Open for tastings and purchases. We are happy to take orders by phone.
Curbside delivery is always available.
---
---



Forward this email to a friend
and invite them to sign up for our newsletter!