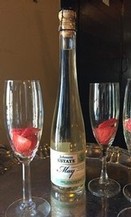 ---
---
SPRING SUNDAY BRUNCH, June 6th, 2021, 11:30am
While living in Australia many years ago, Fred and I learned that a glass of sparkling wine is the perfect "welcome-to-the-party" beverage - and so, yes, it has to be May Wine for this brunch!

Chef Karl Johnston, Executive Chef at the Twentieth Century Club in Buffalo, will be preparing a seasonal buffet which we will enjoy outside - or in a tent if the weather isn't nice! Tickets are $50 ($40 for Wine Club Members). Reservations are limited so please reserve by June 1st. Here's the menu and we hope that you can join us!
Jennifer & Fred Johnson
---
May Wine & Strawberries
..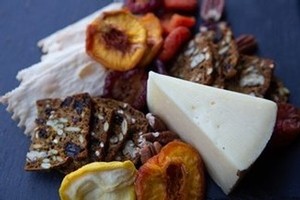 APPETIZERS
Cheese & Charcuterie Board
featuring Smoked White Fish, Cheeses, Meats, Fancy Dried Fruit
Dry Rosé of Pinot Noir or Ruby Dry Rosé

MAIN COURSES & SALAD
Quiche Lorraine with Bacon, Broccolini & Caramelized Shallots
Ricotta Frittata with Wild Mushrooms, Peas & Leeks
Mixed Green Salad with Lettuce, Estate-Grown Sorrel, Goat Cheese, Sliced Strawberries,
Shaved Red Onions & Champagne Vinaigrette
Fresh Baguettes
Riesling of Choice: Black Locust, Dry Riesling, Semi-Dry, or Sweet

DESSERT
A Strawberry Dessert Surprise!
May Wine or The Queen's Catawba

. $50/person - $40 for Wine Club Members with Promotion Code - SPRINGSB
Reservation link here.
---
CHAMBOURCIN - 10% OFF - CELEBRATE MEMORIAL DAY
This favorite spring holiday - full of outdoor festivities - will be here before we know it. As Fred thought about what he might be cooking on the grill, he thought about Chambourcin, an off-dry red wine with berry notes which would pair well with many favorites.
So, as you plan your BBQ meals - here's a Memorial Day special:
10% off Chambourcin from now until Memorial Day, May 31st.
(applied automatically)
---
ENJOY THE VINEYARDS & GARDENS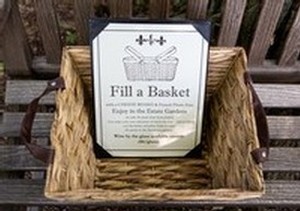 Visit our Event Calendar! We've added Sunday Morning Vineyard Walks (first one on May 30th) and other events. And enjoy a French Picnic in the Garden on the weekends, weather permitting in the farmhouse gardens - no reservations needed. We'll have baguettes, cheese, and charcuterie available for sale in the winery - so come enjoy a picnic in the farmhouse gardens at your leisure.
---
WINE CLUB
Here's a Wine Club which permits YOU to select not only the wine, but also the number of bottles! Customize your choices quarterly. Pick-up at the winery or shipped.
The next quarter's selections should be made by June 1st. Learn more here.
---
AT THE WINERY
Open Daily 10AM - 6PM
Open for tastings and purchases. We are happy to take orders by phone. Tastings in the gardens available on the weekends, weather permitting.
Curbside delivery is always available.
---
FREE AND DISCOUNTED SHIPPING
Visit this page for details & promotion codes.
---