SPRING SUNDAY BRUNCH, June 6th, 2021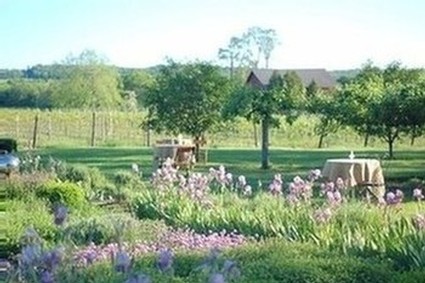 A spring brunch with wine pairings to enjoy in the farmhouse gardens -
with a tent if the weather isn't what we hope!
Prepared by Chef Karl Johnston, Twentieth Century Club
June 6, 2021, 11:30am – 2:00pm

WELCOME BEVERAGE
May Wine & Strawberries

APPETIZERS
Cheese & Charcuterie Board
featuring Smoked White Fish, Cheeses, Meats, Fancy Dried Fruit
Dry Rosé of Pinot Noir or Ruby Dry Rosé

BRUNCH
Quiche Lorraine with Bacon, Broccolini & Caramelized Shallots
Ricotta Frittata with Wild Mushrooms, Peas & Leeks
Mixed Green Salad with Lettuce, Estate-Grown Sorrel, Goat Cheese, Sliced Strawberries,
Shaved Red Onions & Champagne Vinaigrette
Fresh Baguettes
Riesling of Choice: Black Locust, Dry Riesling, Semi-Dry or Sweet
DESSERT
A Strawberry Dessert Surprise!
May Wine or The Queen's Catawba
---
We are sorry - this event is now SOLD OUT.
$50/person
$40/Wine Club Member