Customers have been happy with the Outdoor Tastings in the Farmhouse Gardens (weather permitting) where you may sample wine and purchase it by the glass. Some guests are taking advantage of the picnic fare available in the winery. We provide the basket and plate/cutlery - you choose your favorite cheese, crackers, and charcuteries - and enjoy it in the garden. We're respecting social distancing with benches and tables spread "way out"!

Adjacent to the Farmhouse Gardens, daisies are in full bloom on the "Daisy Lane", pictured above with Fred's 1937 General Motors truck. We look forward to seeing you and happy summer!
Fred & Jennifer Johnson

P.S. For wine delivered to your door, remember our
FREE AND DISCOUNTED Shipping Programs.
The winery is open for sales and tastings. And we have Curbside Pick-Up if that is your preference - just call the winery at 716-326-2191.
---
NEW! OUTDOOR TASTINGS IN THE FARMHOUSE GARDENS
SATURDAYS & SUNDAYS, 11am-5pm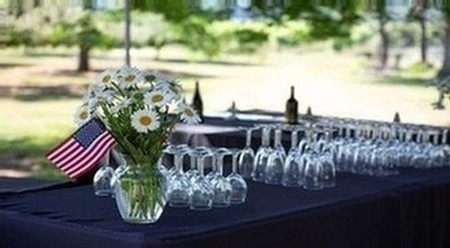 ---
SUMMER DAYS, SUMMER WINES
Try these ONE-Click Options
It's hot outside - and so what are your summer favorites? When it's porch time, and you want something over ice, think of Solstice Sangria, Passionate Peach, Pink Niagara, Pink Catawba, and Concord. If you are pairing wines with dinner, Dry Rose of Pinot Noir, Dry Ruby Rosé,
Semi-Dry Riesling, and Pinot Noir are great options.
---
CHERRY SEASON, A PERFECT PAIR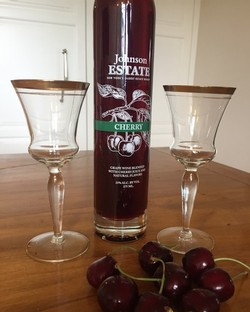 We are nearing the end of cherry season in Chautauqua County, but bowls of
this delicious fruit remind us of our Cherry Liqueur! This Liqueur is the secret ingredient in these
Double Chocolate, Double Cherry Biscotti - pair it with more Cherry Liqueur!