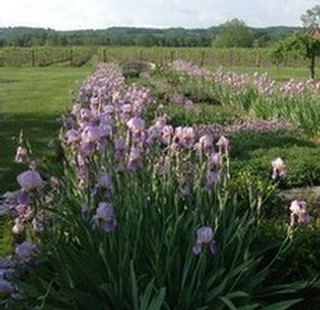 Dear //FirstName//,
Spring has, finally, arrived here in Western New York. After a very warm day yesterday, the iris in the farmhouse gardens appear to be on schedule to begin blooming on Memorial Day Weekend! We will feature French Picnics in the Gardens (no reservations needed unless a large group) this weekend and next - picnic fare of baguettes and cheeses will be available for purchase in the winery to pair with your favorite wine. While our Romance in France dinner is sold out, you may still participate in our first
Sunday Morning Vineyard Walk, 9:30am on May 26th.
Happy Spring!
Jennifer & Fred Johnson
---
May We Brag? 2019 Finger Lakes Wine Competition


GOLD Medals for Johnson Estate and six other Lake Erie wineries!
Read about it here.
Freelings Creek Semi-Dry Riesling - DOUBLE GOLD
Freelings Creek Sweet Riesling - GOLD
Johnson Estate Maple Liqueur - GOLD
Johnson Estate Solstice Sangria - GOLD
---
May Wine
First introduced in 2016, Johnson Estate's May Wine has become our trademark welcome for spring, celebrating the arrival of the season in the Germanic style. This small-batch, limited vintage of bubbly Vidal Blanc has a light infusion of sweet woodruff (pictured just emerging in the background of this photo). Don't forget that our May Wine is the perfect spring party wine!

More about Winemaker Jeff Murphy's inspiration for this wine.
Order some May Wine now.
---
Maréchal Foch Back on the Shelves!
We've filled the tasting room shelves with our latest vintage of long-awaited and just-released Maréchal Foch. This new 2018 vintage of our popular off-dry red wine might appreciate some time on the shelf as it was recently bottled. The 2018 Foch grape harvest was double the previous year's and this vintage is a bit lighter than the 2017,
but retains its smooth and silky finish.
And yes, it is available for online orders!

Sparkling Traminette - 2017 Vintage released at the end of April.
---
Wines and Recipes for Spring
Here's some French-inspired
appetizer recipes
for those Memorial Day celebrations.
---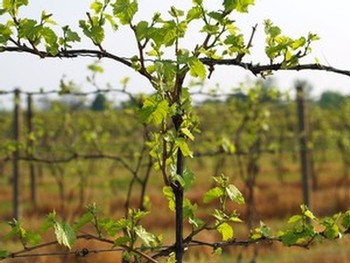 At the Winery
(see calendar for details):
May 25: Winemaker's Dinner:
Romance in France -
Sold Out
May 26 - June 6: Iris in Bloom,
French Picnics in Farmhouse Gardens
May 26: Sunday Morning Vineyard Walk