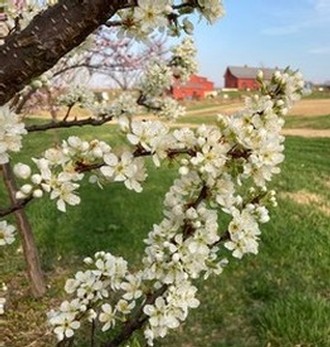 Plum Trees in Blossom with Barns in Background
---
---
A TASTE OF SPRING
As you may have read, Johnson Estate's newly-released 2019 vintage of Seyval Blanc just won 92 Points and a Gold Medal at the 2021 Eastern International Wine Competition!

We are happy to have this news and also to share this special vintage with you. Last week, we featured a 20% discount on your first bottle of Sparkling Traminette and/or Traminette (discount continues until midnight, April 12th). This week, we are adding the Seyval Blanc - 20% off on your first bottle (until midnight, April 19th) and this link puts it in your cart.

Here's why. We want you to sample this new vintage. Seyval Blanc, an off-dry wine, is often compared to Sauvignon Blanc, as they both have a nice crispness and fruity flavors. Some, often those from New Zealand, have distinctive passion fruit and/or peach aromas and flavors. Johnson Estate's Seyval Blanc also displays these characteristics - some years more than others. We're remembering 2009 - very strong passionfruit and peach that year! And this year's 2019 has readily apparent and notable peach notes, which we think that you will like!

Happy Spring!
Jennifer & Fred Johnson
---
OUTDOOR TASTINGS ON WEEKENDS
WEATHER PERMITTING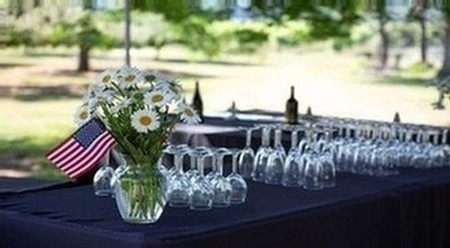 And as the photograph of the plum tree shows, spring has finally sprung in Western New York. And so, when Mother Nature provides us with sunny warm weather, we've decided to put up the tent and offer outdoor tastings on the weekends - weather permitting - on Saturdays and Sundays (11am - 5pm). We hope that you can join us!
---
BIG & SMALL WALKS - CAMP ONYAHSA
April 24, 2021, 9:45am
The YMCA Camp Onyahsa is sponsoring a 5K Run/Hike or a 2K Walk. With prizes for those who catch a photo of Big Foot! Children under ten are welcome to participate with parents. Here's the link to sign up for this "outdoors" fundraiser for this special Chautauqua County children's camp.
---
AT THE WINERY
Open Daily 10AM - 6PM
Open for tastings and purchases. We are happy to take orders by phone.
Curbside delivery is always available.
---
FREE AND DISCOUNTED SHIPPING
Visit this page for details & promotion codes.
---