---
FIND YOUR FAVORITES:
RED WHITE ROSÉ DESSERT
---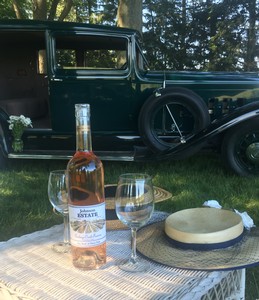 Well. Here's the photo we'd like to have - a warm spring day with flowers, a cool 1931 Pierce Arrow under the trees (thank you friend Farley!),
and a bottle of Dry Rosé of Pinot Noir.
Instead, Mother Nature has given us about four inches of snow.
So while the daffodils are beginning to emerge and will be blooming in a couple of weeks,
winter is not yet over here in Western New York!

That's okay - we'll prepare for spring anyway. Winemaker Jeff Murphy just released our 2021 vintage of Dry Rosé of Pinot Noir, which was bottled a couple of weeks ago.

This "perfect-for-spring-and-Easter" wine, our third vintage of this Provençal-style rosé, is a balanced smooth wine with a nice finish and fresh fruit aromas. It has a light pink color with warm salmon highlights and is bottled with a Vino-lok glass cork.
Elegant enough for an Easter present if you like
(and so is the Ruby Dry Rosé).
---
AT THE WINERY
Open Daily 10am-6pm
MAPLE WEEKENDS, March 26-27
Noon to 4pm, Saturday & Sunday
Let Chef Andy make you a delicious crêpe - today's the last day -
if you miss it and want to create the experience at home,
we've got French Crêpes kits $(25).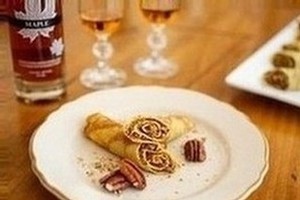 PERFECT FOR EASTER (April 17)
FRENCH CRÊPE KITS & MORE
Anson Mills White & Buckwheat Flour Crêpe Kits ($25) - includes fancy ground nuts and Big Tree Maple syrup. Add a

Maple Liqueur

for your perfect pairing.

A selection of Big Tree maple syrups including maple leaf bottles

Chocolates

for those Easter baskets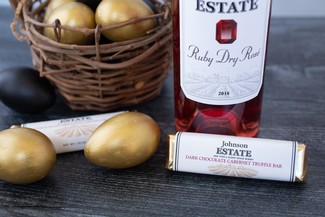 AND MORE 2022 EVENTS COMING SOON!
We'll have vineyard walks, Mother's Day brunch, and more...
---
LAKE ERIE WINE COUNTRY
Wine & Tapas Weekends, May 13-15 & 20-22
Details and tickets available on LEWC website.