Ship Wine to Your Family & Friends
Dear //FirstName//,
Yes, indeed, it has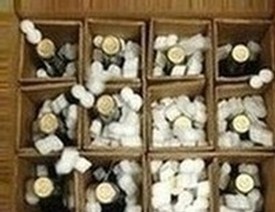 become an annual tradition.
From November 1st thru December 31st, Johnson Estate Winery offers FREE SHIPPING to our customers in the continental US for minimum purchases of twelve like-sized bottles (yes, this also makes the packaging much simpler!). You are welcome to place an order online OR to call the winery, where staff will be happy to speak with you. We are excited that our new website offers you, our customers, new account management features to make ordering our wines for your table just a little bit easier. Happy shopping! Jennifer & Fred Johnson
---
We now have newly released vintages of Pinot Noir and Cabernet Sauvignon. The 2016 vintage of Pinot Noir is the first which utilizes our very own estate-grown Pinot Noir grapes. We grow three clones of Pinot Noir, each with slightly different characteristics, and picked the grapes at two different times for optimal ripeness. We also now have three ice wines on the shelves: Vidal Blanc, which was bottled just in time for entry into the 2017 San Francisco Wine Competition where it was awarded 97 Points/Double Gold Medal, Chambourcin, and Sparkling Rosé Ice Wine.
---
2017 Harvest Update

The 2017 harvest year was officially completed on October 26th with the harvest of our Vidal Blanc. According to the region's grape farmers, the mild, mostly sunny fall was the best ever. Yields on the new Chardonnay and Riesling vineyards were very good and the juice quality was excellent for all of our thirteen varieties. Yes, we should add that the ice wine grapes have been netted to be picked in December or January. And, if you think you'd like to try your hand at picking ice wine grapes, please email Jennifer to get on that notification list!
---
Inspired by the pumpkin collection from my membership in
Gordon Post's North East, PA, CSA
(Community Supported Agriculture)!