Four hundred years ago this month, the Pilgrims celebrated our first Thanksgiving in America. Today we are grateful to stand on the shoulders of 400 years of progress made by our forebearers. Like them, we spend most of our days and energies trying to build an ever better future. This outlook applies to our vineyards, our fields and forests, our wines, our team, and our community.
Every November, here at Johnson Estate, we also recognize and give thanks for the sacrifices so many of our countrymen have made in defending our republic in the conflicts that have sadly punctuated our history. November 11th is Veterans' Day, also known as Remembrance Day. We take the opportunity every November to remember our combat veterans by donating $2 for every bottle of select red wines purchased this month to the EOD Warrior Foundation. At the winery, we also offer free tastings to our military and veterans in November. Last year, your purchases generated over $2,000 in donations to the Foundation. We chose this Foundation because our son, a Naval officer as was his grandfather, started his career as an EOD Tech. He also designed our "Torpedo Red" label, which we feature every November. The insignia of the torpedo-carrying dragon is from the WWII squadron of the winery's founder, Fred Johnson Sr. who was awarded a distinguished flying cross for single-handedly sinking a Japanese destroyer on Remembrance Day 1944.
So for this very special 400th Thanksgiving we wish you and your families a wonderful beginning to this holiday season.
Feast well, delight in family and friends, and safe travels.
Fred and Jennifer Johnson
---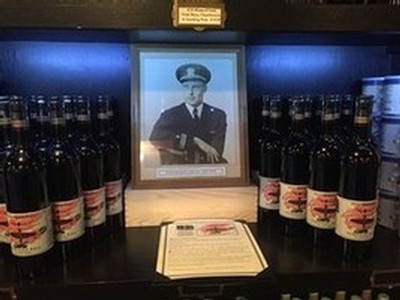 RED WINE QUALIFIYING FOR OUR $2/BOTTLE DONATION
TO THE EOD WARRIOR FOUNDATION
Maréchal Foch:

A smooth semi-dry wine named after Ferninand Foch, the marshall of the French armies during WW I.

Torpedo Red

&

Founders' Red

:

A dry, fruit-forward wine made from Chancellor and Pinot Noir grapes - regular and commemorative labels.

Cabernet Sauvignon

:

A robust, high tannin red made from Washington state grapes with smoky oak and dark cherry flavors and a persistent finish.
---
FESTIVE EVENINGS - HOLIDAY MARKETS
Saturday, December 4th,
Fridays, December 10th & 17th
Join us! Germanic/Christmas market foods including warm pretzels,
Spar's German sausages, "flammkuchen" or onion pizza, and mulled wines. Also sip and sample and find the right Gift Boxes for friends and family.
Reservations online here: $20/person
Wine Club Members $10/person