AT THE ESTATE
Our lane to the barn is now lined with Black-Eyed Susans which have thrived with this year's summer rains. So have the sunflowers which can be seen on our Sunday Morning Vineyard Walks and are depicted below.

Our thirteen varieities of grapes are loaded with fruit and a few varieties, including our popular Maréchal Foch, have started to change color - that's called "veraison". And to prepare for the fall harvest, Winemaker Jeff Murphy was supervising today the delivery and installation of a thirty-foot 8,000 gallon stainless steel tank!
We look forward to seeing you at the winery and in the meantime happy summer!
Fred & Jennifer Johnson

PS We remind our friends within driving distance of Western NY of the activities at the Roger Tory Peterson Institute this summer. They include regular Wednesday nights, "Art After Dark" (5-7pm), featuring not only Johnson Estate wines, but hors d'oeuvres prepared by Elegant Edibles, and music by a variety of players. Visit their website for details!
---
SUNDAY MORNING VINEYARD WALKS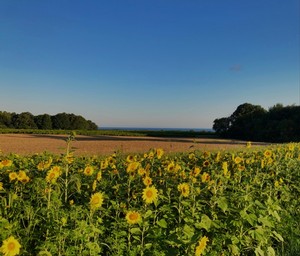 Offered three Sundays in August, these self-guided walks are followed by a flight of three wines
and small pairings - a perfect introduction to Johnson Estate.
---
WHAT'S TERROIR? VINEYARD WALK & TASTINGS
Meet the owners, Fred and Jennifer Johnson, and Winemaker Jeff Murphy, on this special walk in the vineyards to three deluxe food and wine pairing stations. The last What's Terroir Walk for 2021 is on August 10th (still available, but class is limited to 20 people). More details and registration here.
---
FOOD FOR WINE
Jennifer's approach to wine is through food. If someone asks what her favorite wine is, she'll say:
"It depends on what food I am eating". If no food is available, her choice might well be May Wine or Semi-Dry Riesling; both semi-dry wines which are delicious on their own.
Remember that there are gourmet

"Food for Wine"

offerings in the winery, from dried fruit and chocolate to cheese and charcuterie. We can also ship these and you can easily order a small cheese board

here

or a large one

there

!

Recipes

are featured on our website to pair with most of our wines.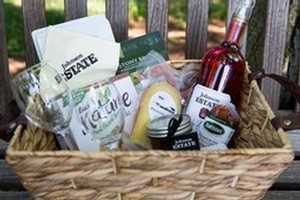 NUTS * CHEESE * CRACKERS * JAM & DRIED FRUIT * CHOCOLATE
Visit our website - Food for Wine
---
WINES SHIPPED TO YOUR HOME
Try these ONE-Click Options
It's hot outside - and so what are your summer favorites? When it's porch time, and you want something over ice, think of Solstice Sangria, Passionate Peach, Pink Niagara, Pink Catawba, and Concord. If you are pairing wines with cheese or dinner dinner, Bright Steel Chardonnay, Dry Rose of Pinot Noir, Dry Ruby Rosé, Semi-Dry Riesling, and Pinot Noir are great options.
---