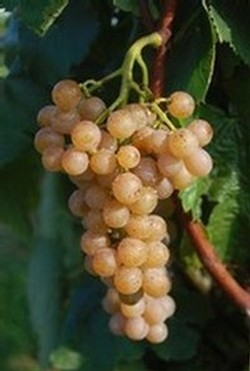 ---
---
HAVE YOU HEARD?
Johnson Estate's Freelings Creek Traminette won a Gold medal and Best of Class award at the 2021 NY Wine Classic! The grapes pictured above are Traminette - developed by Cornell University - from Gewurtztraminer and Seyval Blanc. They have a delightlful flavor profile with rose, lychée, and floral aromas and like traditional Gewurtztraminer, a mildly spicy finish. We first planted this variety on the Estate in the early 2000's and we now makes two wines with these grapes -
Traminette and Sparkling Traminette.

Have you tried Traminette?
To encourage you to try this very special and slighlty unusual wine if you haven't yet - we're offering 20% off your first bottle of either or both wines. Traminette pairs beautifully with Asian foods, duck and poultry, fish and shellfish, hearty salads, and even desserts. This discount is applied automatically. Click here to put them in your cart:
Traminette and/or Sparkling Traminette.

Stay well and happy spring!
Jennifer & Fred Johnson
---
MORE AWARDS
In addition, at the 2021 Eastern International Wine Competition, we are proud to say that the following Johnson Estate wines were also recognized:
2017 Vidal Blanc Ice Wine, GOLD, BEST OF CLASS & BEST OF SHOW
Pink Catawba, GOLD & BEST OF CLASS
Niagara, GOLD, 90 Points
Concord, GOLD, 92 Points
2019 Seyval Blanc, GOLD, 92 Points
---
NEWS FROM THE VINEYARDS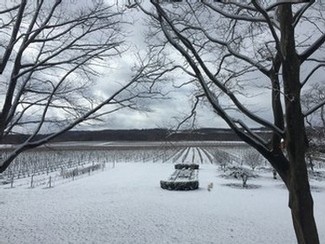 Well, April Fool's Day. For the last two weeks, we've been tantalized by spring weather and the rapid growth of the daffodils, now in bloom. But we woke this morning to find a couple inches of fluffy white snow! Not to worry - the grape buds are still tightly tucked in their covers thanks to the cooling effect of a 34-degree Lake Erie. This is one of the positives of a lake-induced microclimate that makes this such an excellent place for vineyards! P.S. It's melting fast!
---
AT THE WINERY
Open Daily 10AM - 6PM
Open for tastings and purchases. We are happy to take orders by phone.
Curbside delivery is always available.
---
YES! FREE AND DISCOUNTED SHIPPING
Visit this page for details & promotion codes.