AT THE ESTATE
Our Outdoor Tastings continue on the weekends - from 11am to 5pm (weather permitting). The Farmhouse Gardens are the perfect place to enjoy a glass of wine, your choice of wine samples, or your own picnic - with cheese, crackers and more available in the Tasting Room for purchase. We are also serving Golden Bellinis (May Wine, Passionate Peach Wine, and a little peach bellini), perfect on a hot day. OR you could try our new The Queen's Catawba, a sweet and bubbly wine also perfect for steamy summer weather.

The Black-Eyed Susans are blooming - come take a photo!
Fred & Jennifer Johnson

P.S. For wine delivered to your door: FREE AND DISCOUNTED SHIPPING.
The winery is open for sales and tastings. And we have Curbside Pick-Up if that is your preference - just call the winery at 716-326-2191.
---
PICNIC IN A BASKET
To take home or to enjoy in Johnson Estate's Farmhouse Gardens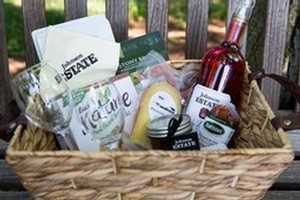 NUTS * CHEESE * CRACKERS * JAM & DRIED FRUIT * CHOCOLATE
Visit our website - Food for Wine
---
WINES SHIPPED TO YOUR HOME
Try these ONE-Click Options
It's hot outside - and so what are your summer favorites? When it's porch time, and you want something over ice, think of Solstice Sangria, Passionate Peach, Pink Niagara, Pink Catawba, and Concord. If you are pairing wines with cheese or dinner dinner, Bright Steel Chardonnay, Dry Rose of Pinot Noir, Dry Ruby Rosé, Semi-Dry Riesling, and Pinot Noir are great options.
---