Johnson Estate's Founder Fred Johnson, was a Navy pilot. His son Fred Jr., is also a pilot who loves flying small airplanes when he has time. But "flight" also refers to a selection of wines for tastings - now served in the Founder's favorite grape vineyard!

Outdoor Wine & Food
featuring flights of wine and cheese & charcuterie boards
Memorial Day Weekend until Columbus Day Weekend (weather permitting)
Thursdays-Saturdays 11am to 5pm &
Sundays 11am to 3pm (5pm on holiday weekends),
also open on Mondays of HOLIDAY WEEKENDS - Memorial Day, July 4th, & Labor Day.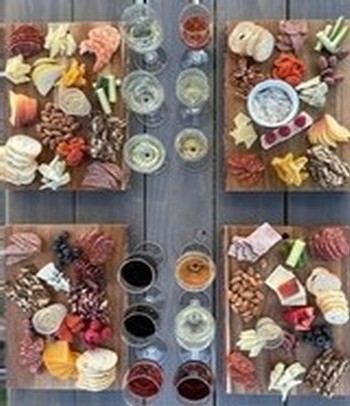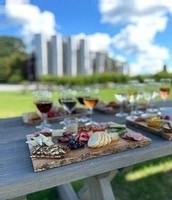 Menu
The Boards
Seasonally-curated cheese & charcuterie boards featuring a selection of dry-cured meats, seafood, cheese, locally-grown fresh fruit and vegetables, dried fruit, nuts and olives, sliced baguettes, and crisps that best complement the flight of wines chosen. Serves two people.
$25
Flight of Red Wines
Cabernet Sauvignon, Founders' Red, and Maréchal Foch
$12
Flight of White Wines
Bright Steel Chardonnay, Dry Riesling, and Seyval Blanc
$10
Flight of Sparkling Wines
Brut, Sparkling Traminette, and The Queen's Catawaba
$14
Flight of Sweet Wines
Concord, Liebstropfchen, and Pink Catawba
$10