November 7, 2022 | Frederick Johnson
All About Torpedo Red for Veteran's Day
ABOUT TORPEDO RED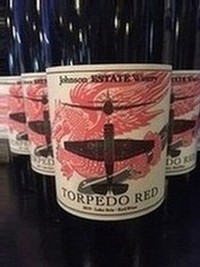 This label was designed by the Johnson's son, Spencer, a US Navy active duty EOD officer, in honor of his grandfather, the winery's founder, Frederick Spencer Johnson.
The dragon carrying a torpedo was the insignia of the WWII Navy Squadron Torpedo Three which flew off the Yorktown from 1943-1945.
The silhouette of the airplane is that of a TBM Avenger, designed by Grumman Aircraft and built by General Motors. to carry a 2,000 pound aerial torpedo. On November 11, 1944*, then Lt. (junior grade) Frederick S. Johnson, age 23, single-handedly torpedoed and sank a Japanese destroyer for which he was awarded the Distinguished Flying Cross by Admiral John S. McCain (the recent Senator's grandfather).
The wine is a blend of Chancellor and Pinot Noir both grown here on the farm. It is a smooth but almost-dry, full-bodied wine that is ready to drink now but should also continue improving with age for at least another five years.
This is a limited, special edition label we are now offering every November in honor of all veterans and active duty military.

* Coincidentally, November 11th is Armistice Day, now called Veterans' Day.