January 24, 2021 | Frederick Johnson
From Fred: Reflections on a Winter's Morn
Mid-Winter Pillar of Fire Sunrise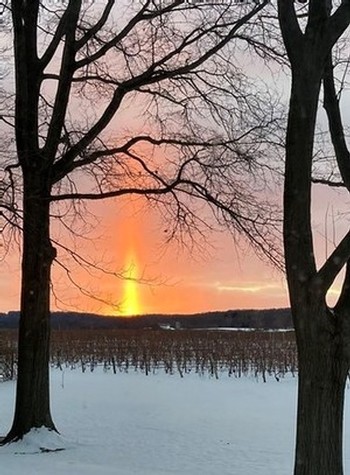 This Sunday morning, January 24, was dawning grey and still, with about a foot of snow on the ground when I walked to the bay window with my first cup of tea in hand and was greeted by one of the most unusual sunrises I've ever seen. It lasted less than two minutes, and I think that it was caused by the sunrise being focused through a hole in the clouds just behind the ridge of hills that make up the Allegheny escarpment two miles south of Lake Erie. This is the so called "Chautauqua Ridge" which is notorious on the evening weather shows for its Lake Effect snow accumulations.
Fifty year ago today, it was likely also a grey day in Massachusetts where I was an 18 year-old headed off to the required Sunday Chapel with about 800 other boys. Dark suits, white shirts, and neat ties required, and as a dorm proctor I would have been responsible for making sure that my various tenth-grade charges made it to church on time and then, as a student deacon, for helping to pass the collection plates during the offertory. Hopefully, the sermon and the service lifted our sights above our teenage worries.

Always an early-rising farm boy, I've seen a lot of sunrises since; on at least five continents and three oceans, and it's a joy to see this, one of the most uplifting sunrises right out the back bay window of what was, originally, my grandfather's house to which we have returned in our "retirement".
Over the years, I have experienced far beyond my just allotment of good fortunes and adventures, yet I am thankful this morning that in returning to one of the places of my beginning, that in this Sunday sunrise over vineyards, I should be granted such an inspiring glimpse of a more fundamental perspective.

Fred Johnson