November 30, 2021 | Jennifer Johnson
"The Empty Bottle Collection"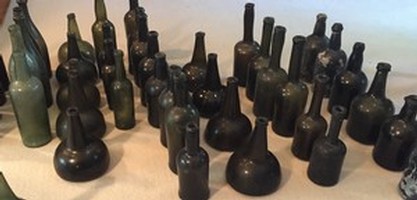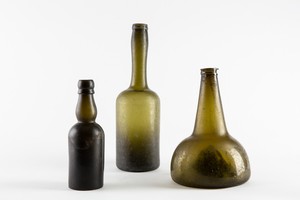 The "Empty Bottles" that traveled the world and ended up in Westfield, NY
On Display at the Patterson Library, Westfield, NY
Made in England or Holland and filled with wine or alcohol, traveled on sailing vessels to the New World and South America in the 1700s, were dumped into the river by sailors, and then collected 200+ years later by a Westfield man.... who was working in British Guyana and had them shipped by plane to NYC/Buffalo/Westfield in the 1970s.

In the 1950s through the 1970s, Frederick S. Johnson worked in many South American countries as an agricultural consultant. He and his family lived in Venezuela for about ten years until his father died and they moved back to Western New York in 1961. He collected a wide assortment of wine and distilled beverage bottles while working in British Guiana and many may have come from Dutch Guiana (Surinam). Here's an excerpt from an article published in the Buffalo News in 1979:

Fred was intrigued to learn that the nets of native fishermen were bringing up old bottles from the Demerara River and the ocean channels where the river meets the Atlantic. Mr. Johnson learned that these bottles had contained wine shipped to colonists of British and Dutch Guiana/Suriname back in the 17th century. These early settlers built their settlements closest to the rivers and found it handy to toss empty bottles into the water. Sand and silt, swept downstream by the water, buried the bottles and then uncovered them as channels changed....They come from a time when bottles were hand-blown, when the size and thickness of the glass varied.......The color of the glass bottles from Surinam varies from dark-green to brown-green. Many of the bottles still contain dirt and gravel… Mr. Johnson shipped scores of bottles home to Westfield, NY from South America.