April 27, 2020 | Jennifer Johnson
May Day and the Rites of Spring -
Your First Bottle Trial - Now until May 10th, just $7.50
"A little madness in the spring be wholesome even for the king"
Emily Dickinson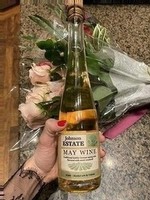 Maybe Emily Dickinson said this because the sweet woodruff used in Germany's May Day white wine punch was considered a tonic - or even aphrodisiac - and that this day is meant to celebrate spring, the season of fertility!

A German friend recently had this to say after she first tasted Johnson Estate's May Wine:
Hello Jennifer. Yesterday would have been my mother's 100th birthday. We celebrated it with one of her favorite desserts, homemade Strawberry Shortcake and your outstanding May Wine. I can assure you she would have loved it too. It is excellent!!!! What an art to capture the taste and consistency [of a German May Wine punch] in a bottle! That is truly a very special celebration drink. Congratulations!

Then my friend, Siggi T., shared her recipe for that Strawberry Shortcake (in our recipe section soon) and explained that the German tradition is to put fresh strawberries and small bouqets of sweet woodruff in the "Mai Bowle" punchbowl.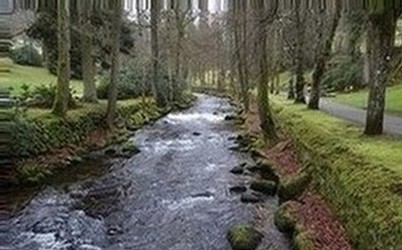 Here's a woodland stream in Germany - it looks not unlike what we might find here in Western NY - and in fact, our "terroir" is very similar to that found in Germany. Hence, at Johnson Estate, we can grow the same grapes varieties grown in Germany: Riesling, Chardonnay, and Pinot Noir (Spatzburgunder in Germany). And we can make award-winning wines from those grapes. Testimony to this is our award-winning Semi-Dry Riesling, not to mention the awards won by other Rieslings, our Pinot Noir, and our May Wine.