December 8, 2017 | Travel | Jeff Murphy
Winemakers from Western New York Visiting Chateauneuf-du-Pape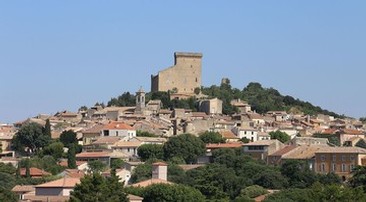 A Visit to the Southern Rhone, Chateauneuf du Pape
Winemakers, Jeff Murphy (Johnson Estate) & Sam Sheehy (Winery of Ellicotville)

History:
After attending a trade show in Montpellier, we travelled to Avignon, the small French town set upon a hill in southern portion of the Rhone Valley where the "Pope's New Castle" was built in the thirteenth century. It housed eight popes over the course of 70+ years before the Pope moved back to Rome. But it was the popes of the era who first encouraged the growing of grapes and the production of "vin du Pape" in the nearby countryside. Chateauneuf du Pape, where we traveled during much of our visit to France, is one medieval village located near vineyards, some of which are over 100 years old.

Appellation:
The Appellation d'Origine Controlée for Chateauneuf du Pape was established in 1936 and fifteen varieties of grapes are allowed to be planted in the appellation. Grapes must be hand-picked to make the approved appellation wines (sometimes with stems, sometimes not). Today the area with roughly 6,000 acres of vineyards has about 250 growers/wineries. Grenache is by far the most popular grape variety planted in the region (roughly 75-80%), along with Mourvedre, Cinsault, and Syrah. –In old vineyards, these varieties might be mixed to provide field blends, but today are often used to blend the famous red fruity, lush wines of the region which are very drinkable young and may also be successfully cellared. Only five percent of the region's production is white wines – from Roussane and Grenache Gris – but these more rare white wines were some of the most interesting which we sampled during on our visits to several of the regions wineries.

Terroir:
We use the word "terroir" to describe a wine region's climate, geology, and wine culture. Most of the wineries we visited had educational "displays" of the terroir of the region, illustrating the importance of terroir and the differences amongst the wineries in the Rhone Valley Yes, in sometimes cases, the displays were very elaborate set-ups in which a winery would display "dirt" - the soil, sand, clay, and stones/pebbles characteristic of different vineyards. Old vineyards were a source of pride and are pruned very short to protect them from the "mistral winds" which are an integral part of the region's terroir – which is otherwise features sunny, hot, dry Mediterranean summers and mild winters. BUT, we will say that during our visit, that the region had its first snow in ten years! It was not what we were expecting!

We were very impressed with the size and quantity of the concrete tanks we saw in this region. Fermentation occurs in these tanks as well as in stainless steel ones. And aging, of course, done in large even giant, French oak barrels.

Food:
Cheese and sausage!!! Every meal, it seemed, came with a cheese and charcuterie board, with soft cheeses, like Brie, predominating.