December 7, 2020 | Jennifer Johnson
Come See Our Christmas Tree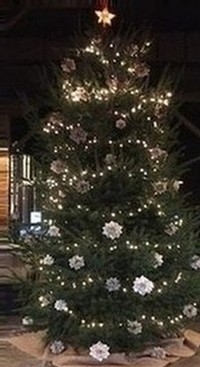 Some years ago, at the Westfield Farmer's Market, I saw some pretty paper ornaments made by Brenda McCutheon. I got the idea of decorating the whole tree in the winery with wine-label ornaments - getting rid of the "fake Chinese brass" ornaments - and "dressing" the winery tree in something unique for our tasting room Brenda was able to accommodate by making dozens of ornaments - and you see the beautiful tree as a result on the right.

And yes, the ornaments have been so popular that we have asked Brenda to make additional ones so that we may sell them in the winery (S=$15.00, M=$17.50, L=$20.00) - they are a great substitute for gift bows!

We would be remiss not to add that this year, our twelve-foot Fraser fir tree was purchased from Bear Lake Christmas Tree Farm - worth a visit if you still need a tree! Bruce has beautifully shaped trees in all sizes ready to be freshly cut.
Merry Christmas!