December 15, 2019 | Jennifer Johnson
Come See Our Christmas Tree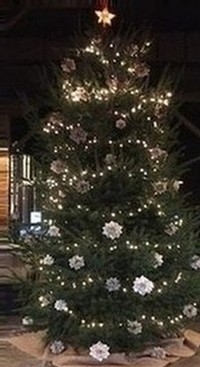 Three years ago, at the Westfield Farmer's Market, I saw some pretty paper ornaments that Brenda McCutheon had made. Then I got the idea of decorating the whole tree in the winery with wine-label ornaments - getting rid of the "fake Chinese brass" ornaments - and "dressing" the winery tree in something unique for our tasting room Brenda was able to accommodate by making dozens of ornaments - and you see the beautiful tree as a result on the right.

And yes, the ornaments (which also decorate our "Partridge in a Pear Tree" tree at the Patterson Library) have been so popular that we have asked Brenda to make additional ones so that we may sell them in the winery (S=$15.00, M=$17.50, L=$20.00).

We would be remiss not to add that this year, our twelve-foot Fraser fir tree was purchased from Bear Lake Christmas Tree Farm - worth a visit if you still need a tree! Bruce has beautifully shaped trees in all sizes ready to be freshly cut.
Merry Christmas!