July 17, 2023 | Jennifer Johnson
FLIGHT, the Estate's Outdoor Tasting Venue
FLIGHT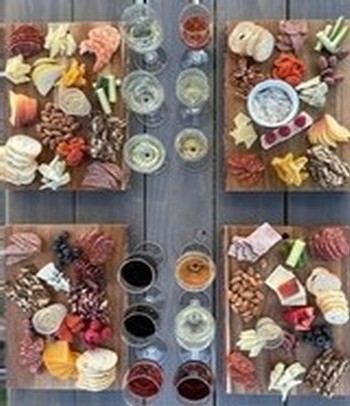 Here's a little information about the Boards prepared for our guests at Johnson Estate - the ones pictured above are intentionally created with some different foods to pair well with certain wines. Our goal is to provide guests with the opportunity to sample three different wines (one doesn't get that even at an elegant dinner party!) and pair them with a variety of different foods.
CHEESE:
This year, FLIGHT is featuring cheeses regionally made by
Goot Essa
, an Amish-owned cooperative located in Howard, PA. Their production of artisanal, small-batch cheeses using milk from the animals - cows, sheep, and goats - on their farms. The Boards also feature goat cheeses from
Old Chatham Creamery
, Groton, NY as well
Lively Run
.
LOCAL FRUIT & PRODUCE:
What better way to enjoy local produce from Western NY & PA. The Boards include seasonal fruits and vegetables - we had strawberries in June and cherries until mid-July. They were accompanied by sugar snap peas and sliced cucumbers. Now the blueberries are in full force - and a local delicious force that must be tried! Local peaches will soon join the board. Each plays a role in providing a palate cleanser or pairing with the selected wines and other foods on the Board.
PERFECT PAIRINGS:
Each cheese and charcuterie board is prepared depending on not only your choice of wines, as well as your preferences for food (we can make sure that the boards are gluten-free, for example). The Board that we prepare to pair with sparkling wines includes a Smoked White Fish Dip; a "perfect pairing" with our Sparkling Traminette. Rose wines might include goat cheese with Quince Paste, another "perfect pairing" from our perspective.