November 9, 2023 | Jennifer Johnson
Estate's Sparkling Traminette - Selected for 2023 Alumni Wine Collection - Cornell Alumni Affairs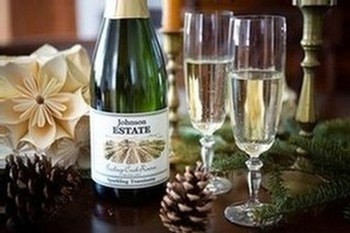 We are happy to share with you the news that Cornell Alumni Affairs was selected Johnson Estate's Sparkling Traminette to be included in their 2023 Alumni Wine Collection! Johnson Estate's prosecco-like Sparkling Traminette (made with Estate-grown Traminette , which was developed by Cornell University) is the first sparkling wine to be included in this annual collection of wines by the Cornell Alumni Affairs. Read more here about the 2023 Cornell Alumni selections and the artists.
Sold Out in Three Days!
The good news/bad news - our Sparkling Traminette "SOLD OUT" three days after Cornell's release of the Collection. We couldn't believe it, but due to a too conservative level of inventory, Cornell purchasers did indeed buy all of Sparkling Traminette! But yes, here's the same vintage of Sparkling Traminette available with its traditional label.
Warm Regards,
Fred Johnson (Cornell '75 & MBA '77) & Jennifer (MBA '79)
---
---
The Johnson Family - Four Generations at Cornell
It's easy to write that title, but it's challenging to summarize a 100+ year old story that begins with an orphan from England who entered Cornell in the fall of 1895 after immigrating from Canada. The Cornell Alumni Magazine does it well in this article: "It Began with a Cornellian".