March 16, 2021 | Jennifer Johnson
Recent Award News!
FOR IMMEDIATE RELEASE: March 16, 2021 CONTACT: Jennifer Johnson 513-502-0123
Johnson ESTATE Winery: Celebrating the Onset of Spring with Golden Awards
Results from two recent competitions reaffirm Johnson Estate's commitment to producing quality wines
Westfield, (NY) – Pandemic or no, farms wineries, like Johnson Estate, do not stop growing grapes, nor making wine, nor receiving accolades for the good ones! We're grateful for our region's special "Lake Effect" microclimate which plays an important role in permitting us to grow excellent grapes and to produce award-winning wines.

2021 NY Wine Classic – Gold Medal for Freelings Creek Traminette
We are pleased to announce that in the 2021 NY Wine Classic, which will be celebrated online this year on Friday, March 19th at 6pm, Johnson Estate's semi-dry Freelings Creek Traminette was awarded the Best of Class designation. Traminette, developed by Cornell University, is a wine grape variety whose parentage includes Gewurtztraminer and Seyval Blanc. The grape makes wines similar to Gewurtztraminer with floral lycheé aromas and a spicy finish. .

2021 Eastern International Wine Competition – Five Gold Medals, Two Best of Class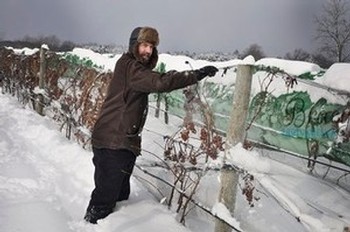 Johnson Estate Winemaker Jeff Murphy, 2017 Ice Wine Harvest
The results of the 2021 Eastern Int'l Wine Competition were just announced this week and the medals which Johnson Estate's wines received recognize the quality of the wines produced – both dry and sweet. Five wines were awarded five gold medals, including two with Best of Class designations:
2017 Vidal Blanc Ice Wine, Gold & Best of Class & Best Dessert/Late Harvest, 93 Points
2019 Pink Catawba, Gold & Best of Class, 90 Points
2019 Concord, Gold, 92 Points
2019 Niagara, Gold, 90 Points
2019 Seyval Blanc, Gold, 92 Points
Winemaker Jeff Murphy, whose contributions to the winery's portfolio of award-winning wines are too numerous to count, is depicted above during the 2017 ice wine harvest. The vintage year was a good one. This vintage of Vidal Blanc Ice Wine, which is still for sale in the winery, has been awarded four other gold medals and the 2017 Chambourcin Ice Wine (now sold out) also earned 98 Points at the 2019 Eastern Int'l Wine Competition.

2021 Beverage Testing Institute, 2019 Chambourcin Ice Wine, 94 Points
Winemaker Jeff Murphy has high regard for the evaluations of the Beverage Testing Institute. They just awarded our 2019 Chambourcin Ice Wine 94 Points, Exceptional: "An outstanding expression of Chambourcin; this is a great Ice Wine to let the grape's best characteristics shine".
Johnson Estate Winery, with over one hundred acres of vineyards, is the oldest estate winery in New York State and a founding member of the Lake Erie Wine Country. For more information please visit www.johnsonwinery.com, or www.facebook.com/johnsonwinery, or call 716-326-2191.