STEP BACK INTO HISTORY (written by Joseph Dagenfelder, Cornell alum)
Cornell & World War II Military History of Founder, Frederick S. Johnson
The USS Yorktown (CVS-10) is an Essex-Class aircraft carrier. Initially to have been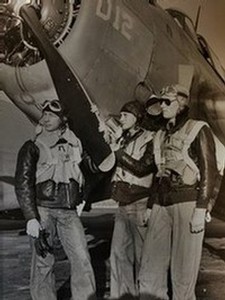 named Bon Homme Richard, she was renamed Yorktown while under construction to commemorate USS Yorktown (CV-5) lost at the Battle of Midway in June 1942. Yorktown II was commissioned in April 1943 and participated in several campaigns in the Pacific Theater. Torpedo Three Squadron was originally based on the Carrier Lexington (CV-3), then reassigned to the Yorktown II.
Frederick Spencer Johnson was born and raised in Westfield, NY and entered the College of Agriculture at Cornell University in September 1939. As a freshman, he rowed lightweight crew, joined Alpha Delta Phi fraternity, and took flight training in ROTC. After Pearl Harbor, he entered the U.S. Navy and was assigned to Pensacola, FL for further flight training. In late 1942, Frederick was assigned to Torpedo Three Squadron on the Yorktown II. Along with various service awards, he was awarded the Distinguished Flying Cross for sinking a Japanese destroyer on Armistice Day, 1944, and an Air Medal for sinking a Japanese destroyer escort in February of 1945.
Frederick was back stateside undergoing training to be a forward air controller for the invasion of Japan when the 'Little Boy" and "Fat Man" atomic bombs were dropped on Hiroshima and Nagasaki on August 6th and 9th, 1945. respectively.
He left the Navy and returned to Cornell in September 1945 and graduated in June 1946. He subsequently served in the Navy Reserves in western NY. His first job after Cornell was with the Dole Pineapple Company in Hawaii. In late 1949, he joined the Rockefeller Foundation to work in Latin America.
In 1951, Frederick married Cecily Moot from Buffalo, NY, a 1945 graduate from Vassar College. From 1952 to 1961, he managed Nelson Rockefeller's farms and ranches in Venezuela and Ecuador. After the death of his father (Frederick William Johnson, Cornell 1901), he returned to western New York and established Johnson Estate Winery on his father's farm. Located along the shores of Lake Erie in Westfield, NY, the winery is now New York's oldest estate winery.
From 1962 to 1982, during the winter months, Frederick continued to consult on tropical agriculture projects for clients such as the World Bank, Inter-American Development Bank, United Nations Development Program, Chase Manhattan Bank, and WR Grace.
The Johnson family legacy at Cornell continues with all three of the third generation attending the University: Frederick Jr (1975, MBA 1977) who met and married Jennifer Schroeder MBA 1979, Elizabeth (1976), and Anthony (1980). Fred and Jennifer now own and manage the winery, with frequent trips to Cornell. Seven grandchildren include Fred and Jennifer's son, a ROTC graduate like his grandfather and now a Lieutenant Commander in the Navy (Cornell 2010), and Elizabeth's son, John Behm (Cornell 2011).